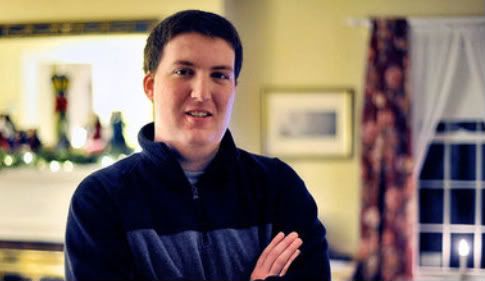 By Michael McAllister
On Friday December 2nd, Bernie Fine's third accuser Zach Tomaselli spoke with Nation of Orange for nearly an hour and a half. He described, in detail, his childhood, being abused by his father, being abused by Bernie Fine, and the ensuing media roller coaster. He also spoke about his reasons for coming forward, responded to public criticism, and shared his goals from this controversial situation. Here is what he said. Before reading, it's important to note that the following contains very graphic and adult content.
Nation of Orange
: I know you made allegations about your father that he sexually abused you when you were younger. Do you want to explain that?
Zach Tomaselli
: My father started abusing me right before I met Bernie Fine. It wouldíve been four months before I met Bernie Fine in the summer of 2001 when I was 12 or 13 years old. He always was very hard on us kids and spanked us on our bare bottoms through 14 years old, and would find little odd reasons to do that even if we didnít really do anything wrong. He would basically, also, it really kind of started out, um, just basically if I was sick or something my father would use the excuse that I didnít know how to shower. So he would take me into the shower to show me how to wash properly. And that would include him standing behind me and basically fondling me in the shower and putting his genitals against my back. Basically, thatís when it all kind of started. That was one of his number one things he would do. But also, make me leave the door unlocked so I had no privacy in the bathroom. He would use the same excuse that Bernie would use whenever he made me leave the door open saying if I slipped and got hurt he needed to be able to get to me.
Nation of Orange
: How long did that go on, the abuse by your father?
Tomaselli
: Through 19 years old.
Nation of Orange
: About 5-6 years or so?
Tomaselli
: Yeah
Nation of Orange
: You were, what 23, because it was this year you finally reported that to authorities?
Tomaselli
: Correct
Nation of Orange
: It was about four years or so after the abuse stopped that you reported it?
Tomaselli
: I waited on purpose to report my father for anything because I know my mom and my siblings rely on him financially. Thereís a five year statute in New York as Iím sure youíre aware. So I wanted to wait until my 23rd birthday to report it, and I did report it a few days after my 23rd birthday. Because at the same time, I wanted the police as well as social services or child services whatever you guys call them, to check up on my little brother to make sure he was OK.
Nation of Orange
: The ultimate result of that investigation was there were no charges filed. Like you said, the statute of limitations were up.
Tomaselli
: Right. And I know heís definitely harping on that to make sure people know that. But that is the reason why there were no charges filed, because there couldnít have been.
Nation of Orange
: You had said on your Facebook page that they did find evidence that he did abuse you. I was curious what type of evidence they found, and were they able to find out if he was not abusing your siblings, that they were OK?
Tomaselli
: From what I understand from my older sister, whoís not really talking to the media and I donít blame her because she does have the slightest relationship with my family still. She was kicked out for having premarital sex, but sheís still allowed to visit them for Thanksgiving, but thatís about it and to have contact with my other siblings. She doesnít want to mess up her contact with my other siblings, so basically, they still have contact through that. She told me, my oldest sister, social services when they talked to my little brother that something had been going wrong. Through social services there was evidence that my father was abusing at least my little brother to some extent. Thatís the evidence Iím talking about. Also, so all that is closed, but the social services case is still open.
Nation of Orange
: So you believe they are keeping tabs on that to make sure youíre little brother is OK?
Tomaselli
: Right. I would be surprised if they werenít seeing as how something was indicated there.
Nation of Orange
: At the current time, your younger brother is still living with your father?
Tomaselli
: Yes.
Nation of Orange
: You also stated that you and your father are no longer talking. Could you explain the circumstances that led to that?
Tomaselli
: That happened in 2007. I was having, in the summer of 2007, my Dad was in Iraq, and I was basically taking care of everything and helping out around the house. My dad was the one who kept tabs on me and was very strict. Obviously since he was abusing me, he made sure there was no one else in my life. I had a friend of mine who was two years younger than me who was my friend from the church I went to. His name was Isaiah Jones. Me and him were best friends for four years. He was a huge Syracuse fan, and I was a huge Kansas Jayhawks fan. So we had a lot of, you know, rivalries with sports, and thatís how we really started to get along. He would spend the night often at my house. At one point we were sleeping downstairs, and he texted me randomly in the middle of the night to do something sexual. And I didnít understand what he was asking. Even at 18 or 19 years old, I still had little knowledge of anything, how sex even worked because my parents kept me out of school. My parents wouldnít sign me permissions slips for sex ed. I wasnít allowed to watch anything sexual on TV. I didnít understand anything. So thatís why I didnít understand what my Dad was doing to me was wrong. The only other time I had even masturbated was during when Bernie had me do that. Anyways, so I had a sexual affair with this Isaiah guy through the summer of 2007. We did things multiple times. By December 2007, my Dad had been back from Iraq for a few months really monitoring everything. The only thing he never really monitored was my cell phone. And thatís because I bought it myself and was on my own plan. They did have some respect for that, but basically my cell phone broke in December. Isaiah started e-mailing me. My dad intercepted an e-mail, asking to do, the e-mail said, ďIf youíre horny then do you want to do that thing.Ē My dad intercepted it and he went to Isaiahís father. Isaiah called me without my parents knowing and said, ďhey say that thing was porn.Ē So I was going to do that to try to get out of this. I knew my parents absolutely would be very very upset. So they called me up to their room. They didnít know I knew already obviously. I played dumb, and they brought it up, and I said, ďoh thatís me getting him porn.Ē And then my Dad kind of tricked me and said, ďshould we tell him what Isaiahís saying?Ē At that point I broke down and began to cry and said I liked guys and I didnít know why. And my Dad explained to me that it was a perversion, and that also I was a pedophile. He also told me that, he compared it to perverted people that have sex with animals. Thatís what was indicated in the Bible. My Dad believed the Bible to its word, including that a wife should be stoned if she cheats on her husband. So I truly believe if my mom ever cheated on him, he would feel heíd have the right to at least stone her. So my Dad gave me the option to going to live with my Grandmother, which he said would be a bad option because he said she would be very very disappointed. Which I had little knowledge at the time and didnít understand that my Grandmother didnít feel that way and was accepting of homosexuality. Or I could go get healed. I could go to a place in Memphis, Tennessee called ďLove in ActionĒ where they to turn gays straight. This place has been on 60 Minutes, because a child had gone there a long time ago, Zach Stark. And that kid was a minor, and these people from Tennessee went it and deemed it to be psychological abuse of going through it to be child abuse. So minors were not allowed to go there. I went there and it was definite psychological abuse. They put you in a room and donít let you talk to anybody until you start admitting that youíre a sinner and youíre this evil person and you need to come back to Jesus. I couldnít handle it, I broke down crying one day and told them Iíd rather kill myself then be in their program. So they put me in a psych unit. The psychologist said, ďZach thereís nothing wrong with you, youíre just around a lot of homophobes.Ē So I called my parents and told them I had nowhere to go. And they said, ďwell you need to get back in the program.Ē I called the program and they said, ďyou canít come here.Ē I called my parents and told them that, and they said, ďwell you need to stay on the streets of Memphis, Tennessee until they let you back in.Ē At that point I had nothing. I didnít have money, I didnít have anything. So I was about to go on the streets of Tennessee, and I called my Grandmother. I looked her number up through 411 or whatever. She found out and ended up giving me a plane ticket to fly back here. My parents stopped talking to her at that point and said she was an enabler. She basically got shunned at that point. Since then my Grandmother and I have had little communication with my parents and have been estranged. Any communication has been fighting. In recent years, there has been none.
Nation of Orange
: Was that your Momís Mom or your Dadís Mom?
Tomaselli
: My Momís mom. My Dadís parents are very religious too, and they actually own a place in Vermont called, ďThe FoldĒ where they try to help kids with anger issues and stuff like that.
Nation of Orange
: From there onto your allegations with Bernie Fine. We can start from the beginning. How you met Bernie Fine and how your trip to Pittsburgh was arranged?
Tomaselli
: I met Bernie at an autograph session at Syracuse University. Iím not exactly sure where it took place on the University. I donít really remember any buildings around it. I donít remember the Carrier Dome, so it wasnít in the Dome I can tell you that much.
Nation of Orange
: Was this in 2001?
Tomaselli
: Yeah, it was in the fall of 2001. At that point it was a really long line for the autographs. We had just brought a basketball, and a Sharpie or whatever. Fine was standing off to the side and my father had been kind of mingling. He had a lot of his co-workers there from the 174th Spider Unit based in Syracuse. He had been mingling with them, and somehow he ended talking with Coach Fine. After talking to him for a good 15, maybe even 30 minutes. I started to get antsy. I started pulling my Dadís shirt to get in line. My dad then introduced me to, who at the time he called Mr. Fine. I shook Bernieís hand, and he asked me some basic questions. My age, where I went to school, that type of stuff. He asked if I liked it in Upstate New York. And then after that we got in line for the autograph session, and got my basketball signed by some of the players. There werenít really any famous players or early superstars at that time. It was the year before Carmelo and Gerry. Basically, after getting the ball autographed, Bernie walked up to my father with an autographed team jersey that was an adult sized jersey. He gave it to my father to give to me, and I thanked him. My father and him continued to speak for another 15 minutes to a half-hour. They were talking a lot about, my father was working at a bombing range as well, so my Dad was explaining to Bernie how the planeís fly, they come and drop bombs and my Dad controls them from his tower or whatever. They were talking about that. I didnít really pick up on anything else they were talking about except that my Dad was telling Bernie how he was trying to get me into basketball because I was tall. At the time I wasnít really a huge fan of basketball. I mean I liked Kansas Jayhawks basketball, but not really a ton. I was more into football coming from the south. I had just lived in Upstate NY for less than a year at that point.
Nation of Orange
: Where did you live before that?
Tomaselli
: Kansas for two years and Texas for six years. I was actually born in way northern Maine, but I was only up there for less than two years. A few months later, it was during Christmas break, it was probably January or New Years Day or the day after New Years Day, probably January 1st or 2nd, my parents called me up to their room. They said they had gotten an opportunity from Bernie to go with the team to Pittsburgh. I acted pretty excited. I overdid it a little bit, I wasnít that excited. But my parents obviously were presenting this to me as a surprise. They basically told me I had to behave myself, and they went over the itinerary, they went over the details. I donít remember exactly what they told me the details were. But I do remember they told me I would be in the same room as Bernie, I do remember that. Besides that, it wasnít that, I donít really remember exactly what they said. I was up in their room for a good hour talking to them, I do remember that.
Nation of Orange
: They were very excited to give you that opportunity, they were doing something they thought you would enjoy?
Tomaselli
: Yeah, yeah. I had told other reporters, my parents went all out for me in two areas. In religion and sports. They knew I loved sports. My Dad really wanted to get me into sports. I think a lot of it was he was realizing I had some homosexual tendencies. Straight guys, you know, gay guys donít like sports is probably what he was thinking. Thatís just a stereotype, you know, obviously I love sports. Anyways, a few weeks later, it was towards the end of January, my father dropped me off in Syracuse. I boarded a bus full of support staff. It was a lot of college age kids wearing golf shirts with the Syracuse logo on it. So I know it wasnít just fans. And the guy sitting next to me was in charge of me, from what I understood. He basically had my parents phone number in case I needed anything. He didnít really pay much attention to me. I donít remember his name or anything.
Nation of Orange
: Where did you board the bus?
Tomaselli
: It wasnít on Syracuse University. I donít remember any buildings that spark a memory besides it being urban. I donít remember the Carrier Dome or anything like that at that point either. And thatís really the only thing in Syracuse that I would remember as a back drop. I was on this bus, I remember the trip being uneventful. By the time I was in Pittsburgh, I remember being in the lobby, Bernie wasnít there. And I started to regret going on the trip because I felt really alone and really left out. So I looked around and looked around. Finally, after a couple hours had passed, Bernie came up behind me, put his arm around me and reintroduced himself to me, and said, ďletís go up to the room.Ē So we went up to the hotel room. I just put my bag on the floor and got settled, picked which bed I was going to be sleeping in. Then we went back downstairs. I was starving at the time because dinner was really late that night. It was a team dinner in one of the conference rooms at the hotel. There was a big buffet set up. All I really remember was eating macaroni and cheese, I donít really remember what the main dish was. I remember sitting across from Bernie Fine, and he introduced me to a couple people at the table. I donít remember their names, and Bernie didnít really pay much attention to me at dinner. He did tell me after I was done eating, he gave me the hotel room key and said, ďwhy donít you go up and Iíll be up behind you.Ē So I went up to the room. I remember he came up about a half-hour later. I was watching TV, but I donít really remember what I was watching because I didnít really know anything about any TV show seeing how my parents were so strict. All I was really able to watch was Disney Channel and sports. So, he came up and made some small talk with me about school and that type of thing. And then he turned the channel to porn. I remember it being lesbian porn. I remember being kind of caught off guard because porn was such an evil thing to me because I sat in church every day. I knew that porn was evil and that type of thing. I remember watching it for a couple minutes and Bernie looked at me and said, ďdo you like it?Ē I would shrug my shoulders. Then Bernie would ask me to pull my shorts down, which I did, not thinking anything of it because by that time my father had been doing that type of thing, and didnít give me any privacy, so it was something I thought was normal between an adult and a child. So, by that time, he looked at me and he said, ďI see you have an erection.Ē I was kind of like shaking my head, and he said, ďthat means you like what youíre watching.Ē And I was like, ďOK.Ē And then he asked me if I wanted to ejaculate. I had to ask him what that meant. And he described it as whenever you like watching, when your penis gets really hard because you like what you see or who youíre with, and stuff comes out. And Iím like, OK. I said no I donít really feel like doing that. It wasnít a solid, absolute no. He felt like obviously he could convince me. And after two or three times he did convince me. But I asked him how to masturbate basically. I didnít use that word because I didnít know that word back then. You rub your hand up and down on your penis several times. So I started to do that, and I said ďlike this?Ē and he said ďyes.Ē After 15 minutes of me doing that, he said, ďsometimes friends will touch each other to help each other ejaculate.Ē So I said, ďOK.Ē He put his hands on my stomach and up to my chest in a circular type motion. And about a half-hour later I was able to ejaculate. He said, ďthatís not a lot that came out, but that will get better as you get older.Ē I just shook my head, and at that moment I felt very very ashamed. Because I was always told that porn was evil and that masturbation was evil. Just sitting in the church, thatís what I had heard every Sunday. Not necessarily what Bernie had done, I didnít think he did anything wrong. So Bernie went and got a piece of toilet paper and was going to wipe my penis off. Instead, I took the piece of toilet paper and did it myself. He took it and threw it away in the trash can. At this point I was sitting on the bed with my shorts pulled up and head up against the head rest, head board, watching the porn still. Then Bernie changed the channel and came and sat next to me on the same bed to my left. He said he needed to sit on my bed because his left eye was dominant and he couldnít see the TV if he sat on his bed. So that made perfect sense to me being 13 years old. So I sat that and a few minutes after we were watching whatever show we were watching at the time, he slipped his hand down my shorts. I kind of jerked away initially, just because it was something unexpected. But he said, ďitís OK itís OK.Ē I let him fondle me for a good 10-15 minutes. He would stop for a couple hours and then fondle me again. This went on at least 4 or maybe even 5 times during that night. It didnít really stop and it said 3am, and I fell asleep to him fondling me. The next morning I woke up and he was standing there with his suit on. He had two thumbs up and said, ďitís game day.Ē At that point the shame left my mind because I was still feeling pretty ashamed before that. I was into this game. I donít really remember much about the game other than Syracuse lost and Pittsburgh won. I actually remember kind of rooting for Pittsburgh secretly just because the mob mentality type thing and being inside the arena with Pittsburgh fans. I remember sitting around 10 rows behind the Syracuse bench, more towards the middle behind the scorersí table. I didnít have any dealings before during or after the game. I took that same bus to the game and back from the game. When I got back to my hotel, I grabbed my back pack on the bus, it was the same type of bus with different staff members on it. Iím not sure if they switched staff or whatever. Because I know they had been on a road trip from Tennessee. So Iím not sure if some of the staff had joined them from Tennessee, but Iím only speculating at that point. Once I got back to Syracuse, my Dad picked me up and I didnít tell him a thing about what happened for multiple reasons. One was that I was exhausted and kind of grumpy. Also if I told him anything that happened in the hotel room I would be in huge trouble. Because I masturbated one, and I watched porn. So I was still feeling pretty ashamed about that as I went home. Nothing happened after that.
Nation of Orange
: I know thereís been some speculation or questions out there about being a 13 year old kid and having your parents send you on a trip without anyone that you knew or sending you off on your own. Was there any conversation about that or did you feel it was a strange thing at the time?
Tomaselli
: It was nothing I had done before. I was definitely given a long speech about behaving. And this was my opportunity, they said, to prove that I could handle certain things. This was my opportunity to show I could behave and be responsible. They definitely stressed that multiple times. This was my chance to prove myself that they could trust me. Like I said, my parents went all out for me when it came to sports, and an opportunity like that you arenít just going to pass up. Itís not like they thought they were leaving me with Bernie Fine by myself. This was a trip with lots of people. There were tons of college age kids on the bus. I had babysitters that would come over to the house that were high schoolers. They trusted college age kids. They trusted these were adults. They trusted Bernie Fine was watching younger people. Not necessarily kids, but at least had worked his way up to be a coach which is someone thatís supposed to be a role model in the community. It didnít really take much trust from them except the title was trust Iím sure.
Nation of Orange
: When you went on the trip did you take a camera with you and take any pictures of yourself with the team while you were down there?
Tomaselli
: No.
Nation of Orange
: Did it ever cross your mind as something to do before you left?
Tomaselli
: That was something that was brought up. My parents would always, you know if us kids went to summer camp or something they could give us a disposable camera or something like that. But the only thing that really happened was my parents were going to tape the game. If that was brought up, Iím sure actually it was, something that I had wanted to do. It wouldíve been something that we just forgot to pack or get.
Nation of Orange
: Back to after the Pittsburgh trip, you didnít have any contact with Bernie Fine for about a year. And at some point you were invited over to his house for a party. Can you explain how that came to be? Who went to the party with you? And what happened at the party?
Tomaselli
: My Dad and I were invited to the Syracuse/Pitt game in 2003. This was the game that kind of turned their season around and propelled them to the championship. Because their season had been mediocre to this point. They were playing the #2 ranked Pittsburgh team, who if they had won that game would have been ranked #1 for the first time in their history. My father and I were sitting fairly close to the Syracuse bench. Fine had gotten us tickets to it. I donít know if you remember but Syracuse fans rushed the court three times.
Nation of Orange
: I remember.
Tomaselli
: The refs would push people off the court and look at the play and everything. Boeheim was actually on the mic at one point. So after the third time we rushed the court, my Dad and I werenít really into rushing the court but we were kind of forced to with all the people and everything. We were on the court and trying to get away from everything. It was crazy with all the people fighting and there was so much going on, on the court. Iím sure with my Dad being as conservative as he was didnít want me to hear some of the language and some of the stuff going on on the court. So we kind of tried to go off to the side and thatís where we ran into Bernie and he just said, ďhell of a game huh?Ē My Dad was like, ďyeah it was.Ē At that point he invited my Dad and I to a party at his house, an after party, that wasnít really, I donít think it was planned until just then. My father said unfortunately he couldnít make it. It was so loud in there he was kind of yelling really loud, and Bernie kind of yelled back at him, ďhow about you let Zach come with us and Iíll have you pick him up in the morning.Ē My Dad didnít really have much time to make a decision on that because of the chaos going on. My Dad said, ďactually that kind of works outĒ because basically my Dad was working that night and had to fly some mission or do something there at the air base, and he was going to drive me all the way back to Watertown and then drive back to work that night. So it worked out good for him that I would spend the night at Bernieís house. He asked Bernie though if Bernie would drop me off at the air base and Bernie agreed to that. I remember my Dad couldnít call my Mom. My Mom would always want to be in on discussions, and would want my father to call her if he was going to make a decision like that. And I remember afterwards my Mom and my Dad fought quite a bit about that. My Dad was trying to explain to her that he couldnít call her because it was so loud. Anyways, I ended up going to Fineís house. I didnít even go with Fine to his house, I donít even know who it was. And Iím sure my Mom wouldnít have been happen if she knew that. It was kind of a stranger I went with to the house. So I got there and there were some players there, the big name players werenít there. I know there was a party going on at Boeheimís house, or I think there was because across the street there were so many cars. And now I know that Boeheim was living across the street at the time, or at least I think he did Iím not sure. But there was a lot of activity going on over there. I remember getting out of the care and there were vehicles on both sides of the road, lights on and stuff like that. I went inside the house, there were some players there some support staff there, there was medical trainers there and a couple other coaches there maybe assistant coaches. Boeheim wasnít there or anybody really famous or anything. There werenít any kids there that I saw so I had a really hard time talking to anybody. And people would kind of look down to me and introduce themselves to me and try to be nice, but I just never connected with anybody. Because not only was I only 14, but I was very immature for my age the way my father stunted my growth. As the crowd kind of wore down, Fine went up in the hallway where his bedroom was and Laurie was introduced to me as Laurie, so I didnít even know for 100% sure if that was his wife or not. He said, ďdo you want to sleep in the bed with me?Ē Afterwards I really said no, not because I was worried about doing anything with him, but I wanted to sleep by myself because I was really tired. And Laurie said, ďwell hun you can sleep wherever you want to.Ē I ended up sleeping on the couch that night. But thatís something that really verified to investigators because when I talked to investigators last Wednesday or a couple Wednesdays ago, the tape hadnít been released yet so no one knew Laurie Fine was involved and knew everything. So I told investigators that Laurie Fine was right there when Bernie asked me that. They kind of looked at each other and thatís when they felt it kind of corroborated my story because Laurie knew that he was asking to do something inappropriate with me. I slept on the couch that night and in the morning Bernie drove me. He couldnít get on the air base because he didnít military ID. I remember that being an issue because I could but he couldnít. So I was stuck at the guard gate, and the guards were trying to find my dad for the better part of an hour or two. I remember being pretty ticked off about that. Then I went home. Later that year, Syracuse beat my Jayhawks in the championship and I was so upset about that I went to school the next day and kids were picking on me because they were all Syracuse fans. I had to go home crying that day because I was so upset. So my parents knew if Fine were to contact me after that to invite me to do anything to do with Syracuse I would say no and that it didnít matter how close I could get to the team and stuff because I was so loyal to Kansas basketball by then.
Nation of Orange
: You were mad at Syracuse for beating them.
Tomaselli
: Yeah. Exactly.
Nation of Orange
: Did he ever try to do anything with you at the party similar to what he did at the hotel room?
Tomaselli
: No. That to me, if I were to have an opinion on that, this is why I think thereís at least a fourth victim out there because the way a pedophileís mind worked, youíve heard what heís done to Bobby Davis. He wouldnít let that kid go, he wouldnít let that kid say no. So the fact that he let me say no says to me that thereís somebody else in the picture by then.
Nation of Orange
: Do you think if you wouldíve said yes and went up with him to his room something wouldíve happened?
Tomaselli
: Oh definitely.
Nation of Orange
: After the party ended, you never had any contact with him after that at any point?
Tomaselli
: No, not at all.
Nation of Orange
: Fast forwarding from then until now, talk about why you decided to come forward now, why you didnít before, and how all of that played out.
Tomaselli
: Well basically, I had told a friend up here about both my fatherís abuse and Bernieís. She had always wanted me to come forward, her name is Rose Ryan by the way, she was in the original article. I told her about the five year statute. I never really felt going forward about Bernie was worth it. Because going forward and telling police about my father was one thing, heís a lieutenant colonel in the Air Forece, it would be an even bigger thing or a bigger stretch to believe an assistant coach at Syracuse would be doing anything wrong. I didnít feel like it was worth it, until I saw the Sandusky stuff, and that got my mind thinking. At the same time, while I was thinking, I also came back to that five year statute thing. It wouldnít be worth coming forward, I didnít think, at that point. My Grandmother came and got me and was telling me, ďhey Zach, who was that guy that you were telling me molested you again?Ē I told her and she said, ďyou need to come here.Ē And it was scrolling across the bottom of ESPN. Iím like, ďoh my God.Ē Then I still at that point didnít feel like telling anyone because I was telling myself nothing would happen to him because of the five year statute. It was not worth it. Then I saw people werenít believing Bobby Davis and his brother. They were feeling like it was some sort of set up like Bobby Davis and his step brother, half brother or whatever it is, were just making something up. And I knew that wasnít true, and I was watching Colin Cowherd the ESPN Radio show. I saw that even Colin said letís wait on this, this isnít the same thing as Sandusky where thereís a grand jury report. So I kind of was like thatís not right. At this point I felt like it was worth coming forward because people werenít believing Bobby and his brother. I felt that, you know, maybe some parent out there might be wondering whether to let their child go with Bernie on a trip. And I wanted to make sure that never happened again. That Bernie never got the opportunity to do that. I went forward and I e-mailed Colin Cowhwerd. Either him or his producers forwarded that e-mail to Mark Schwarz who asked me to get in contact with him immediately and gave me his phone number. I called Mark and had a brief yet long conversation about what happened. He called me back later and asked if it would be OK if he gave my number to Bobby Davis. I said sure and within a minute Bobby called. He talked to me and he was trying to, I think, corroborate my story a little bit in the beginning just asking me questions. He would be nice to me and be like ďthis guy is a predator I donít care what other people say.Ē Then he would ask me does he have a swimming pool, does he have a swimming pool and ask me those types of questions. I think by the end of the conversation he believed me and knew I was telling the truth. We had a very brief conversation about what happened in our lives and how that stunted our growth.
Nation of Orange
: How many times did you and Bobby talk?
Tomaselli
: Probably three. They were all less than five minutes. The last two were him basically trying to get me to call the police. He had basically told me to call the victimís unit or whatever, special victimís unit or whatever itís called there. I did and I told him I got a voice mail. And heís like, ďwell I got a secretary.Ē And I said, ďwell Bobby I called maybe itís different.Ē And he wasnít really believing I called. So he said, ďalright hereís the guy whoís working on my case. Hereís the guy I talked to.Ē So I got the guyís number from him. I called him and was able to get right through. His name was Raul Santana, Detective Raul Santana. I told him briefly. He asked basically what my accusations were. I briefly told him. The next day being Tuesday, I got a phone call from Detective Clark Farry, he asked me to go into details. I told him in detail what happened. He called me back after about five minutes and said, ďlisten, we believe your story. We believe this guy is a predator. Thereís some stuff in your story that makes us believe exactly what youíre saying. Can you please meet up with us? What are you doing tomorrow?Ē And I said, ďnothing.Ē So they offered to basically pay for our trip to go down to meet them. And theyíd cut two and a half hours off our trip by meeting us in Albany. So they met us in Albany in a hotel for about four hours and it was pretty grueling. It was details, a moment to moment description of what happened. It was being recorded. They typed up an affidavit which I signed. They told me to stay away from the district attorney and any of his investigators because they would, ďf**k it up.Ē He said they were having issues with them because they said the DA was buddy buddy with Bernie. Basically, after that, the Syracuse Post-Standard called me one day and said they were running this story no matter what.
Nation of Orange
: If you could maybe explain how the Post-Standard got a-hold of your story and how they got a-hold of you?
Tomaselli
: The Post-Standard called me and said they were running this tomorrow about me. And I said, ďwhat story?Ē And they told me they knew everything, that they were going to run it with or without my details so they were kind of black mailing me. So I did end up giving them some of the details to make sure my side was told, but they knew it already. I didnít know how. So I told the detectives that, and they were pretty upset. What I think happened was Mark Schwarz got upset that, you know ESPN was taking some heat at that time for this story, so I think Mark Schwarz was upset that ESPN probably told him no as far as running my story. Saying that it didnít meet their standard for reporting or whatever that term is that they keep using. I think he either sold it or funneled it to The Post-Standard so that The Post-Standard would run it and Schwarz would have something to talk about. Thatís what I honestly think.
Nation of Orange
: The other thing thatís out there, and I think youíve already touched on it. This is not something unique to you, but a question for all of the accusers in this case, people have wondered why you guys went to the media as opposed to the police. But it sounds like after you talked to Mark, you did go to the police first before you did any interviews for a media outlet. So maybe you could clarify that.
Tomaselli
: Thatís exactly what happened. I went to Mark before I went to police because I was told that there was a five year limit, a five year statute of limitations. So I thought it would be pointless to go to police. I felt like police, if I went to them, they werenít just going to randomly run my story. So I felt the only justice that could be done to prevent children from coming in contact with Bernie would be to get it out to the public and media. And yeah I do think thatís exactly what happened. It couldíve been that the police leaked my affidavit, but whatís more likely is that it was Mark Schwarz. Because heís the only one who knew my story besides the police. And I was keeping Mark updated minute to minute on what was happening, because I felt I at least owed him that because he had gotten me in contact with Bobby and contact with the police.
Nation of Orange
: There was also a report out there that some police or other type of authorities told you to stop talking to the media and threatened you. Could you kind of explain how that happened and when that happened?
Tomaselli
: The police were very concerned that I was going to go to the media after my story leaked. We already knew long before this story leaked that my father was going to deny me going to Pittsburgh. The police were actually having this huge conference on how to approach this and they were going to ask my father before he went to the media and hopefully get my father to say that I did go to Pittsburgh. But before they could do that this was out in the media and my father said no I didnít go. So the police were calling me on Sunday and saying, ďZach how are you doing buddy? You know weíre in your corner. Donít go to the media.Ē They kept repeating that and repeating that. They were calling me from Bernieís house telling me not to go to the media. Then at one point the U.S. Attorney was on the phone, I donít remember his name or anything, and he said not to go to the media. And I said I wouldnít. My next door neighbor is a lawyer, and he said, ďit would look really horrible for your case if you have jury members in your case that think youíre a liar.Ē So I knew I couldnít just keep that quiet and let people think Iím this huge liar while the police investigated for months on end before I was allowed to say anything. They told me, ďonce this is done and Bernie has been convicted or whatever through court, then you can go on Oprah for all we care.Ē Basically, this happened because Clark Farry was talking to my Grandmother and she was confirming stuff like I had told her about Bernie prior to this hitting the news and stuff. Clark said, ďcan I speak to Zach?Ē And sheís like, ďoh no heís getting ready for an appointment at 4, an interview.Ē So he was like, ďwhat?Ē And he asked to speak with me as I was heading out the door. I took the phone and he was like, ďtell me whatís going on at 4.Ē I tried to get around it and I said, ďlisten, Iím talking.Ē And he said, ďZach if you talk we will arrest you. Youíre going to f**k up this case, donít f**k up this case. Weíre in your corner Zach, but we are not going to be in your corner if you go to the media. And we wonít even talk to you.Ē He was just going off at me. At that point it made me so much madder that I accepted every media request at that point. And Iíve been trying to tell my story ever since. They wouldnít talk to me now. That USA Today article made them at least talk to me.
Nation of Orange
: Is that the one where it said you had been asking for updates but werenít getting any?
Tomaselli
: Yeah. Updates I wasnít getting. Which is fine, I can see why I wasnít getting insider information anymore, but at least, I was giving them updates. They were trying to corroborate with someone that I had gone to Pittsburgh with my friends or whatever. And I know one of my friends who was going to corroborate that, once this got to the media was not going to corroborate it all of a sudden because his Mom works at the school my Dad is on the school board for, and he was afraid my Dad would cost his Mom her job if he went forward to the police or the media that I went to Pittsburgh.
Nation or Orange
: Do you have that personís name?
Tomaselli
: I donít want to share that at this point. I kind of finally just because friends with him again and talking to him, and donít really want to make him mad again. But basically I could have given the police ten more names to corroborate that, but this kid didnít even tell me he had told the police he didnít remember. He didnít tell me, so I didnít know he had even met with police. And the police didnít tell me, ďhey your friend didnít corroborate this.Ē And they couldíve done that. So now I had to find out through him that he told police he couldnít remember. I couldíve told them at the time, you know, hereís a list of other friends that are willing to share, you know? Instead I had to find out myself and give them that list later. And I just e-mailed them again today, and I e-mailed Detective Farry. I had both detectiveís info, but I lost Detective Santanís, so I e-mailed Detective Farry and said I didnít want to talk to him anymore I wanted to talk to Santana because heís a lot nicer. He hasnít gotten back to me at all. I e-mailed him late last night (Authorís note: Thursday night). So the police are back to not talking to me again. As I understand it, the U.S. Attorneyís office has taken over the case and I havenít heard from them. And Iíd rather talk to the people who have taken the lead on the case rather than the Syracuse police who probably have little involvement now.
Nation of Orange
: You said when you told USA Today you were having trouble getting information from the police. But I believe you had also posted on Facebook or said in another article, that the police had obtained physical evidence from the Fineís home and that they also had some evidence that placed you in Pittsburgh. What evidence was it that they found and if you could elaborate on that a little bit?
Tomaselli
: I canít be specific because while I donít have a great relationship with the police, I donít want to give out insider information and have a horrible relationship with them and not hear from that at all anymore. I will tell you that those filing cabinets that they pulled there was some sort of link in there that links Fine and me through that. I do know that at this point. There is physical evidence, Iím not going to be specific and tell you what the found or didnít find, but they went and grabbed the video of both Syracuse/Pitt games and are having the FBI and Secret Service analyze those games looking for me. Itís hard because I only have one picture of me when I was 14, and I was wearing sunglasses and a hat. Otherwise my parents have all pictures. Good luck getting anything from them. Iíve also been told, I think, based on what theyíve told me, that they have other search warrants coming. Iíve seen that theyíve searched his office and stuff. Iím not really sure what I told them that would make them search his office, but I think that at some point they are going to come up with a search warrant for my house. I think thatís just to get, I donít know if they would go all out and get a search warrant just for this, but my autographed stuff is there, the autographed basketball to the autographed jersey. I would hope that my father didnít get rid of it. I would hope theyíd go in there and at least prove I was at the autograph session. And they have been able to corroborate the Pittsburgh stuff as well. Iím not really worried about that. I know the media, you guys are wanting to prove that. To me, itís the investigation thatís really really important. I know a lot of media believes me, but I want the investigation even more to turn out right.
Nation of Orange
: I wanted to get your response to people claiming youíre doing this to help your own case going on in Maine right now.
Tomaselli
: It does not help my case one bit. It has hurt my case here in Maine and Iíll tell you why. The district attorney here, there have been cases with people with similar charges, and charges worse than me, come away with this a misdimeanor, no jail time, and no sex offender list registry. I know every case is different. This is a youth pastor who used his authority over kids to touch kids. And for him to get off with thatÖCompare that to my case, and this will come out tomorrow (Saturday), Iím meeting with someone tomorrow, to actually come out with everything that happened here in Maine. Because I want it off my chest, I want to come clean. You know, my lawyer is not going to be happy, but itís something I want to do at this point because this isnít about me. I feel like Iím being selfish by keeping secrets or whatever. The district attorney now that the eyes of the whole country to see how he handles this case, well not the whole country but the media is involved, the national media is involved in this case, he has given me just the worst possible plea deals. Including jail time, which I am petrified of jail time and prison, he has offered 12 years all but three suspended. That would possibly mean I would do at least three maybe less if the judge gives me less than that. The worst part is, thatís if I can make it through jail, is he wants me to have lifetime sex offender registry and heís unwilling to budge on that. And that to me gives me no future because lifetime sex offender, I donít really even know what I would do for a job. Everywhere I went it would be so horrible. It would just be tough to have that. And it would be hard to know that people that did worse things than me are walking around with nothing. And this is really because he wants to show that they prosecute their cases hard here. And so many have asked are you just doing this to get sympathy for your case? Well he watches the news so heís not going to give me a deal because heís afraid people are going to call him out on that. So Iím getting a rotten deal here, and I kind of was warned by my lawyer this would happen ahead of time. So no, it doesnít help my case whatsoever in any way. I didnít want people to know that I have sex charges. As much as that was reported around here, it wasnít big like this, you know?. Now all my high school friends know about it, where as before they didnít, you know?. Itís actually been very very painful. It has not helped me whatsoever. Itís to the point where I want people to know exactly what happened here in Maine. Iím going to tell 100% truth, and itís not going to be pretty, but itís something where I want people to know. I donít want that to be something thatís keeping people from believing me. I really want experts to analyze my case and I want them to see how an abused person can turn into an abuser. And I hopefully want to maybe write a book about this one day. If not, at least spread the word that if youíre an abused person, youíre not only hurting whoever other victims might be from the same person that was abusing but youíre hurting yourself because you might turn into an abuser. Itís absolutely ludicrous that my charges have anything to do with why I came forward.
Nation of Orange
: Youíre statement basically as far as why youíve come forward and being so public with all of this, is that you had some bad things happen to you when you were younger, and it caused issues with you, as it would with anyone who experienced those things, and you want to stop the cycle of abuse, and make people more aware of it to try to stop it from happening to other people and encourage others to come forward. Is that a fair statement?
Tomaselli
: Yes thatís exactly right.
Nation of Orange
: Could you respond to those that are suggesting youíre only doing this for your ď15 minutes of fame?Ē
Tomaselli
: Well I wish it was only 15 minutes of fame. It in no way, whatever fame is given me, has not been worth it whatsoever. I think to most people Iím more infamous than famous. Iíve had plenty of people say Iím a hero and plenty of people on Facebook and messages say, ďhey Iím a sex abuse victim what do I do?Ē Thatís obviously made me feel a lot better. Iím glad Iím helping people come out of the woods as far as their abuse. Iím glad Iím able to give advice to a certain extent.
Nation of Orange
: Do you regret coming forward now that all of this has happened? Youíve had some backlash from this and a lot of negative press as a result of this. Do you regret coming forward at all?
Tomaselli
: Thatís something I expected to an extent. I regret that it was leaked. Well, Iím upset it was leaked, I guess I donít regret it because it wasnít something I did. I donít regret this. I know in the long run it was the right thing to do. I know that whatever the right thing to do is, it always works itself out. I know itíll work out eventually. I know that someday Iíll be thankful I came forward. Not right now. Iím struggling. Itís very tough and draining and tiring, and painful especially. But I donít regret it. And I know in the future I wonít regret it. I know Iíll always have those negative people. But my true friends have backed me even though Iíve lost some friends who obviously werenít my friends if Iíve lost them over this. But no I donít regret it.
Nation of Orange
: When the whole investigation is done and over with, with Bernie Fine, what do you expect the end result will be?
Tomaselli
: I donít know what I expect. But I certainly hope for justice. I expect that at the very least, nobody is going to be leaving their child alone with Bernie. Thatís all that counts to me. Whether he goes to jail, whether he gets in trouble or not, that doesnít worry me. Like as far as my own case goes, I feel that now that Iím in counseling and getting help, Iím not worried that Iím a threat to other children at this point. And Iím not necessarily worried that Bernie is a threat to other children. I donít think you have to lock someone up to keep them from hurting children. Any parent now that has a decent brain is going to know Bernie Fineís name, and heís not coaching anymore so heís not in a position to see kids and use his power anymore. I expect that parents will no longer be leaving their kids with Bernie Fine.