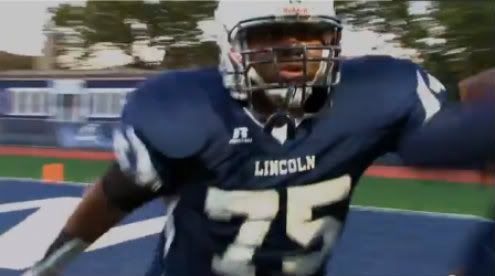 By Michael McAllister
Juco defensive tackle Wayne Williams
committed to Syracuse
on Thursday. We had the opportunity to speak with him and go in depth about his commitment, his game, swagger, and expectations going forward.
Nation of Orange:
You gave your commitment to Syracuse recently. What other schools were involved? And why did you ultimately choose Syracuse?
Wayne Williams:
Being home was a big, major thing for me. I wanted to say on the east coast. I'm a big momma's boy, you know, my mom means everything to me. So I wanted her to be able to come and see me play. I felt very comfortable at Syracuse, had a lot of friends there. I have Brandon Reddish there, Ivan Foy who's like a brother, Wayne Morgan, Terrell Hunt, Ryan Sloan's there. There are so many players that I played with in the upstate/downstate game that brought us close. Fort Hamilton being our rivals, I knew Brandon Reddish and Ivan Foy since my freshman year. Coach Anselmo is one of the best recruiters out there. He did a good job making me feel comfortable and telling me why I should pick 'Cuse. It was a very comfortable feeling. As far as anywhere else, I think I would've been at Rutgers University if I wasn't at Syracuse. Coach Kyle Flood is a great recruiter too. He made me feel really comfortable at a school where I had no familiar faces.
Nation of Orange:
When you spoke with John Garcia Jr from Scout.com, you mentioned bringing the swagger back to Syracuse. Can you elaborate on that?
Wayne Williams:
I'm all about swag. I'm a very flashy player. Some people say I'm out there trying to be like a receiver or d-back. It's a New York thing, man. You've got to bring the swag when you play. If you feel good, you look good, you'll play good.
Nation of Orange:
Describe your game, what type of player you are, and what Syracuse fans can expect to see from you on the field.
Wayne Williams:
I'm an in your face player. There's no if, ands, or buts about my game. I'm going to line up in front of whoever it is, and I'm going to go through you and make every play. I'll beat you with power, I'll beat you with speed, and sometimes I don't even have to do much I'll just taunt you out of the game.
Nation of Orange:
So you trash talk on the field?
Wayne Williams:
I do talk trash. But I make sure after the game when we line up to shake hands, that it's all for the love of the game man.
Nation of Orange:
You mentioned your previous relationships with all of these players from New York City that Syracuse has brought in. Is Syracuse the place that all recruits talk about down there?
Wayne Williams:
Syracuse owns the five boroughs right now. They own the boroughs. They have a nice pipeline with Nasau Community College, and they're having a nice pipeline with the high schools, and they're having one with ASA right now. I expect Syracuse to be running New York for a long time.
Nation of Orange:
Out of high school, you went the Juco route. Why was that the route you took, and what was your recruiting like in high school?
Wayne Williams:
The main thing was, out of high school, my grades were not good my freshman and sophomore year. I didn't really get the concept of 65's were just passing but not enough to qualify. I didn't really get that until my junior year. I was catching up, and I was borderline. My SAT score didn't do it, so I had to go the Juco route. Out of high school my head was so swollen from all the looks I was getting; I could've ended up anywhere. Miami and Oregon were my dream schools. I was borderline at Penn State out of high school. I thank God for being the person I am now. He humbled me, He made me see what I had to work on in my craft and Syracuse is where my new home is.
Nation of Orange:
When you made your decision, was it one you made on your own? Or did others, such as family or friends, have input?
Wayne Williams:
At my spring ball game I saw a lot of coaches there. I saw 'Bama, I saw Tennessee, Texas A&M, and I had all these coaches that came here and talked to me. I personally feel like it was more, not a spit in the face to me, but why are all these coaches all over the country recruiting me right now? I'm that dude that's going to be a game changer in the NCAA as soon as I step foot on that field. So the fact that I don't have over 50 offers right now is a spit in my face. I just said, I'm going to get it out of the way and go with the school that's been with me since day one and I'm going to make them look great. I have the attitude that every time I step foot on that field I'm going to prove every school that didn't offer me wrong.
Nation of Orange:
What are your goals for your Syracuse career, personally and team wise.
Wayne Williams:
I have three years to play two. I'm not a real crazy person on the red shirt thing. But if I have to just to get my game right, I will red shirt just so my game can be perfect. So I can be an NCAA All-American my first year on the field. I always set high goals for myself because I know I can achieve them. As far as the team, I just hope they have a real good season, reach a BCS race and play a bowl game. I hope that they win. Just get Syracuse buzzing.
Nation of Orange:
Tell Syracuse fans why they should come out to see you and the team. Why should fans come to the Dome every week?
Wayne Williams:
The Dome should be packed. If it's quiet then you'll be hearing every word I say. So come, witness greatness at its finest. I'm the king of New York and you got me now.
Follow Nation of Orange on twitter
Like Nation of Orange on Facebook