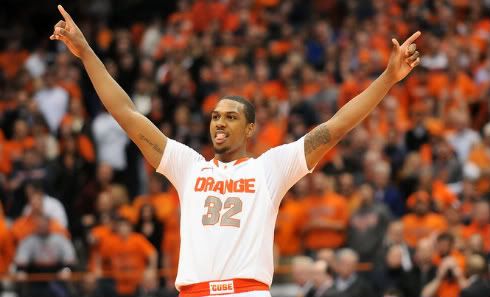 By Sean Fernandez
As the end of the semester draws closer, Kris Joseph is one of many Syracuse University students who are preparing for their graduation. Unlike many graduates, however, he'll be chasing his dreams of playing in the NBA. The 6'7" small forward projects as a second round draft pick after having a spectacular career with the Orange. He won 119 games at SU while ending his career 25th on the school's All-Time scoring list with 1,476 points.
A fan favorite, Joseph led the Orange in scoring and minutes per game this year. He tallied 13.8 points per game in an average of 32.4 minutes of action. Some of his stats may have dropped slightly from a year ago, but an absurd amount of depth is the most likely reason for that. He took on an increased leadership role and was always there to make big plays when the Orange needed it.
We've seen Joseph do it all on the offensive end. He can score by attacking the basket with fury, knocking down mid-range jump shots and spotting up from downtown. There is still room for improvement in each of these areas, but Joseph has shown the ability to score in bunches. Need proof? Look at the NIT Preseason Tip-Off Tournament, when Joseph averaged 19 points a game vs. Stanford and Virginia Tech. Or flashback to the game at home against Georgetown this year, which was K-Jo's last at the Dome against the rival Hoyas. He scored 29 points and proved to be unstoppable from the opening whistle to the final buzzer in overtime.
Joseph has a natural ability to put the ball in the basket, which is something that NBA scouts will always crave. He has worked hard from day one and was named to the AP All-American honorable mention team as a result. There are still some things that he can improve, like his sometimes shaky mid-range jump shot and overall aggressiveness on offense. With that being said, I still think he has the tools to be a valuable commodity to the team that drafts him. Chances are that his career will start on the bench, but that's not unchartered territory for Joseph. He became the first ever Orange to win the Big East 6th Man of the Year award during his sophomore season.
While Syracuse as a team struggled to grab rebounds this year, Joseph has actually proven to have the skills necessary to be a solid rebounder. At 6'7", he has the height to compete with other players at his position, and his leaping ability has impressed people around the league as well. At the next level, he will need to work on positioning, foot work, and aggressiveness.
Many scouts feel that it's difficult to evaluate Joseph and other Syracuse players' defensive abilities because of Coach Boeheim's preference to play zone, but Joseph has the tools to be a good defender in the NBA. His work in the weight room has paid off and he has improved his strength without sacrificing much mobility or quickness. He has the strength and length to make an impact on the defensive end upon his arrival at training camp. There will be an obvious adjustment switching to man, and Joseph will need to work hard off the court to make that adjustment.
Joseph has drawn consistent comparisons to Chris Douglas-Roberts, who played his college basketball for Memphis and is now playing in Italy after being a member of the Nets and Bucks. They both are prototypical small forwards that are athletic, can score, and have a quick first step that they use to blow by defenders.
The consensus from most scouts and mock drafts is that Joseph will be a second round pick in June's draft. My NBA Draft.net has K-Jo going 54th to Clippers and Draft Express has him getting picked 53rd overall to the Celtics. I'm going to go out on a limb and say that he gets drafted by the Atlanta Hawks. They are deep and talented but they lack depth at small forward. They will pick sometime in the middle to late second round and could use a player like Joseph. He could fill their SF void and compete with former UNC Tar Heel Marvin Williams for playing time right away. Don't be surprised if he creeps into the early second round or even the late first round, but Atlanta is a possible destination for Joseph.
Witnessing Kris Joseph mature from a bench player to All-America candidate over the past four years has been exciting to watch. While his Syracuse career may be over, Joseph still has a bright future ahead of him. He's got a great head on his shoulders and has the talent to have a successful professional tenure in the NBA or abroad. He will go down as one of the best in Orange history, and rightfully so.