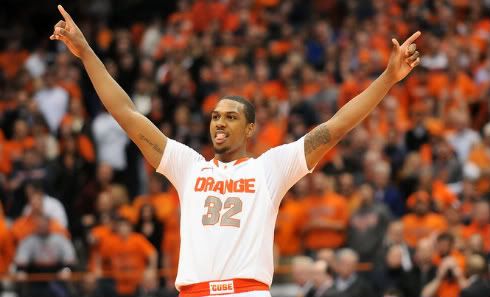 By Michael McAllister
Syracuse edged out an overtime win over their hated rivals, the Georgetown Hoyas, Wednesday night 64-61. The crowd was electric, and the atmosphere was outstanding. It was a closely contested battle throughout, with neither team holding a lead great than six points.
The Hoyas controlled the game for most of the first half, holding between a two and five point lead most of the way. Georgetown went into the locker room with a 31-27 advantage. They dominated the boards in the half, and held Syracuse to 29% shooting (9/31). But the Orange came out in the second half on fire, going on a quick 8-0 run to take a 35-31 lead. Syracuse seemed to be in control for most of the second half. But every time the Orange appeared to be in control, the Hoyas responded. After a three by Joseph put the Orange up 54-48, Georgetown immediately responded with a three of their own. With Syracuse clinging to a 55-54 lead, Greg Whittington grabbed a rebound and was fouled by C.J. Fair. He made the first free-throw but missed the second. The Hoyas grabbed the offensive rebound and called timeout. With 30 seconds left, Henry Sims tried a free-throw line jumper, but was blocked by Fab Melo. Syracuse's Dion Waiters took the final shot of regulation, but missed and the game headed to overtime.
In overtime, Syracuse and Georgetown traded baskets, with neither team holding more than a two-point lead until the final minute. With 30 seconds left in overtime, Scoop Jardine drove the lane and collapsed the Hoya defense. He kicked it out to a wide open Kris Joseph, who hit his sixth three of the game to give the Orange a 64-61 lead. The Hoyas had another possession, however. But Scoop Jardine came up big again with a critical steal that sealed the game. Syracuse now leads the all-time series with Georgetown 48-39, and have won five of the last seven games.
The Good
Kris Joseph was spectacular in this game. He scored a career-high 29 points on 9-20 shooting, including 6-11 from beyond the arc. He also grabbed five rebounds, had three steals, and was 5-6 from the free-throw line. Joseph carried this team on his back, and silenced the "
go-to guy
" talk for at least a night.
The Orange defense held Georgetown to just 33% shooting, and was very good all night. The zone was active, aggressive, and forced Georgetown to take contested shots. Syracuse finished the game with 11 blocks and six steals.
Fab Melo was a force in the middle again. He scored 11 points, grabbed seven rebounds, and blocked six shots. His defense was huge down the stretch, blocking critical Hoya shots.
Scoop Jardine, despite not shooting well, finished with eight assists and two steals. He made some critical plays and was very good in the second half.
Syracuse finished 12-16 from the free-throw line. Don't look now, but Syracuse is shooting 70% from the line as a team, and has gotten rid of the "bad free-throw shooting team" mantra.
With the win, the Orange improved to 24-1, matching the best 25 game start in school history (2009-10). Jim Boeheim moved into third place on the all-time wins list with his 880th, passing Dean Smith. He also has the most wins all-time at one institution.
Syracues also took firm control of the Big East regular season crown, moving to 11-1 in conference. The second place team, Marquette, is two games back but the Orange have a game in hand.
The Bad
The Orange shot only 35% from the floor, and only 33% from beyond the arc. Despite not being a great outside shooting team, they still took 24 three-pointers. That seems very high for a team with as much athletic ability that can finish at the rim.
C.J. Fair just had a bad game. He finished 2-10 shooting, with his two makes being a tip-in and a layup. His mid-range jumper that's been falling all season was way off. While he did grab nine rebounds to lead the team, he was frequently blocked out by the Hoyas and in poor rebounding position.
Brandon Triche had an off night, finishing with seven points on 2-5 shooting. He just didn't seem to have it early on, and didn't play for most of the second half or overtime as a result.
Dion Waiters struggled mightily shooting the ball. He finished 3-12 from the floor, and seemed content to try to score from the outside all game. Long two-point jumpers or threes were the norm for him on the night. That seemed odd because every time he drove the lane, something good happened. He'd find an open man, or get fouled. His aggression and confidence is important, but he has to be smart with it as well. Of his 12 shot attempts, six were three-pointers.
The Ugly
Once again, the rebounding issue reared its ugly head. Syracuse was dominated on the glass 52-35, and gave up 23 offensive rebounds. That's simply unacceptable, and the Orange were lucky to escape with a win. The main culprits seemed to be C.J. Fair and Kris Joseph, as they were outmuscled inside. The Hoyas wanted the rebounds more, and it showed.
Post-Game Quotes
Boeheim: "They got on the boards from the beginning, and thatís just a disaster for us, getting outrebounded by 17 rebounds. This is a disaster game as far as Iím concerned. Very disappointing at this stage of the year to get beat like that on the boards. You can miss shots. Thatís part of the game. We have got to find a way to rebound the ball better."
Boeheim was asked where this game ranked in the all-time Syracuse/Georgetown clashes. His answer, "28th, 30th. Before you were born, there were 20 better than this."
Boeheim on Kris Joseph: "Kris bailed us out. We didn't look comfortable shooting the ball. We really struggled offensively."
Kris Joseph on the game-winning shot: "For some reason they left me open. Maybe they didn't see the last four or five go in. You never know if you're going to face that situation. So, it's fun and I am happy I made the shot."
Kris Joseph on the rivalry: "Itís the last game Iíll ever play against Georgetown, assuming we donít play them in the Big East Tournament. So it was good. I feel like I came out on top in this rivalry."
Scoop Jardine: "Weíre not pleased with ourselves. We can be better. We can rebound better. Weíre not making shots. But I know one thing: Weíre all happy with the win. We got a big win against a tough Georgetown team and Coach broke a record. So, heís happy . . . for the most part."
Scoop on Kris Joseph: "Heís been there all year for us. He made the big shots down the stretch that we needed. Kris has always been steady with his 14, 15 points every game. Thatís why heís our leading scorer. Thatís why heís our go-to guy. Thatís why he stepped up today."
Dion Waiters: "I donít know what we gotta do to make Coach happy, but weíre satisfied with the win. Thatís Coach, man. We got a great win tonight. It was a battle."
Dion Waiters on Fab Melo: "It gets us going, it gets the crowd going. He blocks shots, he takes charges. Heís just been unbelievable on defense this year."
The Orange welcome their other rival, Connecticut, to the Dome on Saturday for a 1pm tip.