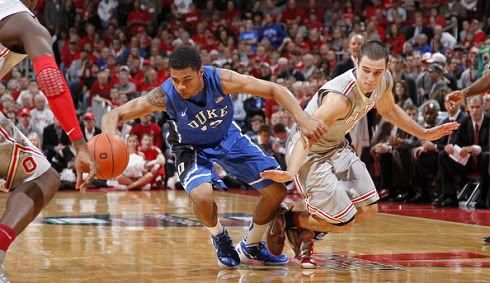 By Michael McAllister
According to Adam Zagoria of
Zag's Blog
, Duke freshman Michael Gbinije will be transferring. He averaged 1.7 points and 0.8 rebounds per game, and only appeared in 19 contests last season. Also according to Zagoria, Syracuse is among the schools that have already inquired about his services.
According to scout.com, Gbinije was a four-start prospect who was the 7th best wing in the class of 2011. He's a smooth shooting player with great range. He shot 55% from the floor, including 40% from beyond the arc, at Duke last season. However, his defense and rebounding needs some work. Maybe the zone would be a better fit than the pressure man-to-man utilized by Duke.
As a 6'6" prospect, he has the skills to be a guard at the D-1 level. Syracuse's is not unexpected as they offered him in high school. His skill set seemed to be a natural fit in the Orange zone. At 6'6", he could play at the top of the zone as a guard, or on the wing as a small forward. Gbinije's shooting ability would make him a natural fit in Syracuse's offensive system as well.
Said Duke head coach Mike Krzyzewski about Gbinije's transfer, "We wish Michael the best of luck and we will support him through his impending transfer. He is a talented player with a solid future ahead of him."
What will be interesting is whether Syracuse is among the schools Gbinije is blocked from tranferring to. NCAA rules stipulate that head coaches have the ability to block certain schools from a list of schools to which a player may transfer. Normally, that list is limited to conference opponents. This situation is unique. Syracuse is not a conference opponent of Duke right now, but likely will be when Gbinije becomes eligible to play in the 2013-14 season. That could play a role, but Coach K has generally been very open in allowing his former players to transfer wherever they would like to go.