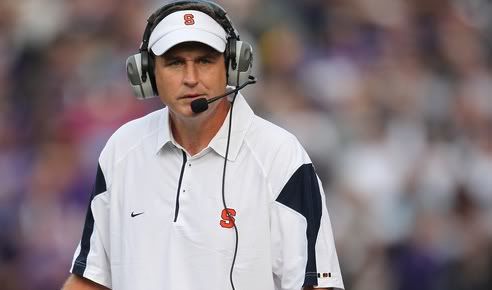 By Michael McAllister
According to
Justin Rodriguez of the Times Herald-Record
, Syracuse has offered two players from Newburgh Free Academy in Newburgh, NY. 2014 defensive back Jalen Williams and 2015 running back Anthony Dubose both received offers from the Orange recently.
Doug Marrone and the Syracuse staff have made a concerted effort to get on players early, and be among the first to offer them. This is the latest example of that. It has paid dividends recently, as high profile quarterback Zach Allen committed in part because Syracuse was the first school to recruit him.
Rodriquez spoke to both Williams and Dubose about their offers:
"When coach Bianco called me, it seemed like I did something bad," said Dubose, who is 6-foot, 195 pounds. "When he first told me about Syracuse, I thought he was kidding. My family and I are very excited. I grew up watching Syracuse football and basketball. It's really a good thing."

"It's big and I was excited when I found out," Williams said. "I just know I have to keep working hard next year. To have an offer from one school is great, but I definitely want to get a couple of more."
Follow Nation of Orange on Twitter
Like Nation of Orange on Facebook