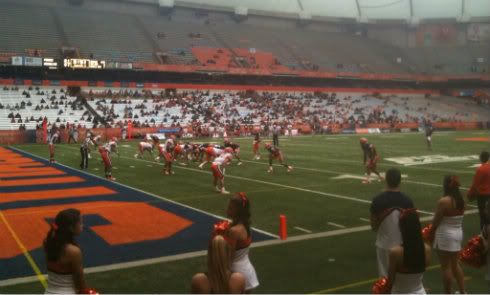 By Michael McAllister
Syracuse Football participated in its annual Spring Game on Saturday in the Carrier Dome. The roster was divided into two teams. One was coached by John Anselmo, the other by Rob Moore. The game itself lacked offensive fireworks, as Anselmo's squad won 9-0. Both scores were courtesy of the defense. Jason Bromley sacked Charlie Loeb for a safety in the first quarter, and Brandon Sharpe returned a John Kinder fumble for a touchdown in the second quarter.
Positives
Jerome Smith looked solid. He's the starting running back right now. That doesn't mean he'll start opening day, as Ameen-Moore is out with an injury and there are talented freshmen coming in (McFarland, Morris). But right now, he's the best player at running back. His footwork is infinitely better from last season, especially when running inside. There's no hesitation; there's patience and decisiveness. When he's tackled, he does so going forward. He's a big, strong, physical runner with the speed to get outside. His stats don't tell the story of how he looked, as he only gained 18 yards on 5 carries.
Ryan Nassib showed solid accuracy, as would be expected for a fifth year senior. He rarely made poor decisions, and was efficient for the most part. Nassib finished 11-18 passing, for 163 yards. He also showed some ability in the running game. Especially at the 4 minute mark of the third quarter. Nassib rolled out to his left and juked a defender out of shorts. Ironically, it was his cousin Joe Nassib who he embarrassed.
John Kinder played well in the second half. He stood in the pocket and made some nice throws down the field. He has to work on decision making when being pressured, however. He finished 5-11 for 56 yards.
Ashton Broyld is going to be a playmaker this year. Listen to his day of work. He ran the ball once for four yards, caught two passes for 50 yards, and completed one pass on one attempt for 14 yards. Broyld will be Syracuse's "slash" this year. He can line up all over the field, and be a matchup nightmare for opponents. Broyld showed great ability in the open field, especially making people miss.
Marcus Sales has fantastic hands. He did a good job getting open and snagging passes. Especially a deep pass in the third quarter where he had to make an adjustment along the sidelines. It was nice to see him back out there.
Jeremiah Kobena has shown the ability to get separation, especially deep. The guy can flat our run. A few times Nassib didn't pull the trigger down the field, but there were opportunities. Expect him to be a deep threat in the Orange passing game this year.
The defensive line was good all game. Bromley and Crume were able to get consistent pressure up the middle. They were also solid against the run, especially inside.
The secondary was solid, but Brandon Reddish stood out. He has great closing speed, and is good making a play on the ball in the air. He had a near interception in the second half where he had no business being close to the ball. Yet somehow he nearly caught it.
Negatives
If Ryan Nassib goes down, Syracuse is in trouble. Neither Loeb nor Kinder showed anything that would lead anyone to believe either is ready. Kinder had his moments, but he's not ready to be a consistent, week in and week out starter.
The offensive line really struggled. Especially the interior offensive line. They got beat far too often, and couldn't open any big holes for the running backs. There was far too much pressure on the quarterbacks all game long.
Two missed field goals are a concern.
No offensive scoring is a bit of a concern. It would've been nice to see them punch it in a few times.
There is a concern about the lack of big time speed and big play making ability. Broyld and Kobena showed some signs, but there will need to be a consistent threat to prevent defenses from loading the box.
Early in the game, the play calls seemed overly conservative. A lot of short throws, straight forward runs, and generic plays. Some of that is to be expected as they aren't going to show all of their wrinkles in a glorified scrimmage. It did open up a bit in the second half, but hopefully this isn't a trend this fall.
The offensive struggled for large stretches with sloppy play, a turnover, and lack of execution.
Final Thoughts
This team isn't close to what it will look like in the fall. There were a bunch of players out with injury that will be expected to contribute (Pugh, Lyn, Lemon, Spruill, etc). There are also talented freshmen and JuCo guys that can contribute. A few on the defensive line. Syracuse has two games that people will say "they can't win" against Missouri and USC. Every other game is winnable. Marrone has his work cut out for him, but there are positive signs looking towards September.
Post Game Press Conference
Defense:
Offense:
Coaches: