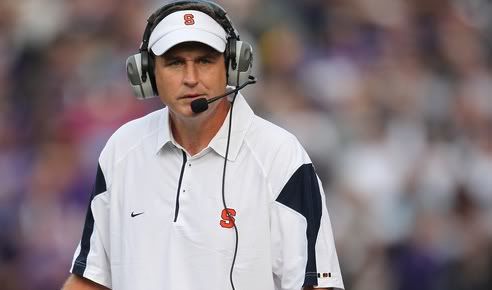 By Michael McAllister
Syracuse football has had an interest offseason to say the least. Marcus Sales was welcomed back, several players were out with injuries during the spring, and spring practices were closed to the media. But as head into July, the anticipation of the start of another season of Syracuse football is starting to elevate.
We decided to take a look at the roster and project how we think things will work out during training camp. Obviously there are unknown factors, such as injuries, but here is how we see things looking heading into the Northwestern game.
Note: Ashton Broyld is listed as the 4th running back, but will see time all over the field. Broyld will get more playing time than the typical fourth running back. However, should there be injuries, he would not be a likely starting candidate. Broyld would maintain his "slash" role, as other running backs receive the bulk of the carries. Freshmen like George Morris or DeVante McFarlane are candidates for that in case of injury.
QB: 1. Ryan Nassib 2. Charlie Loeb 3. John Kinder
RB: 1. Jerome Smith 2. Prince Tyson-Gulley 3. Adonis Ameen-Moore 4. Ashton Broyld
FB: 1. Clay Cleveland 2. Myles Davis
TE: 1. Ron Thompson 2. Beckett Wales 3. David Stephens
WR(x): 1. Alec Lemon 2. Jarrod West 3. Jeremiah Kobena
WR(z): 1. Marcus Sales 2. Jarrod West 3. Adrian Flemming
LT: 1. Justin Pugh 2. Kristofer Curtis
LG: 1. Zack Chibane 2. Omari Palmer
C: 1. Macky MacPherson 2. Rob Trudo
RG: 1. Lou Alexander 2. Ivan Foy
RT: 1. Sean Hickey 2. Kristofer Curtis
DE: 1. Markus Pierce-Brewster 2. Brandon Sharpe 3. Micah Robinson
DT: 1. Jay Bromley 2. Ryan Sloan 3. Zian Jones
DT: 1. Cory Boatman 2. Eric Crume 3. Zian Jones
DE: 1. Deon Goggins 2. Brandon Sharpe 3. Donnie Simmons
OLB: 1. Dyshawn Davis 2. Cam Lynch 3. Lewellyn Coker
MLB: 1. Marquis Spruill 2. Siriki Diabate 3. Lewellyn Coker
OLB: 1. Dan Vaughan 2. Oliver Vigille 3. Dom Anene
CB: 1. Keon Lyn 2. Brandon Reddish 3. Julian Wigham
CB: 1. Ri'Shard Anderson 2. Jaston George 3. Joe Nassib
FS: 1. Jeremi Wilkes 2. Durell Eskridge
SS: 1. Shamarko Thomas 2. Ritchy Desir
K: 1. Ross Krautman 2. Ryan Lichtenstein
P: 1. Jonathan Fisher 2. Ryan Norton
KR: 1. Jeremiah Kobena 2. Prince Tyson-Gulley
PR: 1. Wayne Morgan 2. Steve Rene
Follow Nation of Orange on twitter
Like Nation of Orange on Facebook