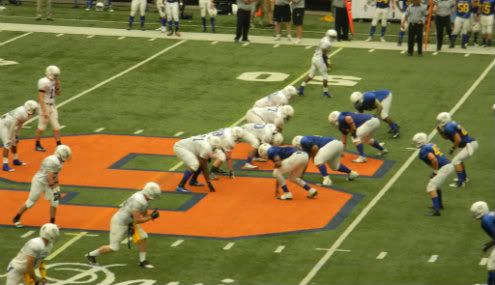 By Michael McAllister
The first two editions of the upstate/downstate classic were rather uneventful. Downstate won both contests by a combined score of 75-14. This year, however, the Upstate squad proved ready for the challenge. They came up short in the end, as Downstate held on 27-23. But it was a very entertaining game played with a lot of intensity.
Game MVP Andrew King from the Downstate squad was spectacular. He finished with two blocked punts, one of which he recovered for a touchdown, had several tackles and a couple tackles for loss. King was all over the field showing good burst, good instincts, and seemed to always take the right angle in pursuit. King is headed to Army, but it's shocking he didn't any bigger offers. Marcus McGill for the Upstate team was solid, catching two touchdown passes. He is headed to the University of Buffalo. Every quarterback that played struggled to consistently pass the ball effectively. There were several unsportsmanlike conduct penalties due to the intensity of the game.
Omari Palmer
Palmer showed outstanding run blocking skills. He had to have had over ten pancake blocks, and frequently got to the second and third level. Palmer was knocking guys around, literally throwing them at times, and was far too strong for anyone on the Upstate team to handle. He seemed to block with a nasty streak you love to see in offensive lineman. While his pass blocking needs to improve, he was extremely impressive all day. He opened up huge running lanes consistently. After knocking his man to the ground, he continued up field looking for a linebacker or safety to take out as well.
Wayne Morgan
Morgan didn't play the entire first quarter, and rotated in and out the rest of the game. On his first play, he was beaten bad by a double move by Marcus McGill. It resulted in a 36 yard touchdown reception. After that, however, he didn't have a receiver make a catch against him. Redemption would come in the fourth quarter, when he absolutely crushed Upstate quarterback Tyler Johnson. The hit flipped Johnson in the air, and Morgan's helmet popped the ball loose. Downstate would recover, and score what ended up being the winning touchdown on the ensuing possession. Morgan only returned one kick for 20 yards, but is likely to be used in that capacity this season.
Devante McFarlane
Unfortunately, McFarlane only had one touch the entire game. It came on a draw, where he burst threw the hole, juked a linebacker, and dragged a couple tacklers for a fifteen yard gain. However, he injured his shoulder on the play and did not return. After the game, McFarlane said he was held out as a precaution since it is an all-star game. Had it been a normal game, he said he could have returned. While his one run was impressive, it was disappointing not to get a bigger glimpse of what he can bring to the Orange this season.
Pancho Barnwell
Barnwell was supposed to be a part of the incoming 2012 class. However, he did not qualify academically and will be attending Nassau Community College this upcoming season. Syracuse should still be a player for his services at that point. Barnwell was extremely impressive in this game. He went head to head with Omari Palmer on several occasions with some success rushing the passer. He finished with three sacks and two tackles for loss. Barnwell showed a solid burst, closing speed, and a very high motor. He's definitely someone to keep an eye on.
We spoke to Palmer, Morgan, and McFarlane after the game. You can check out the
video interviews here
.
Follow Nation of Orange on twitter
Like Nation of Orange on Facebook