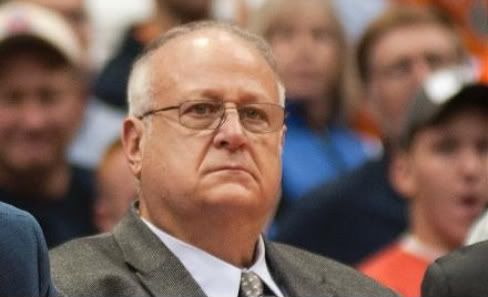 By Michael McAllister
The Syracuse Post-Standard has received a copy
of the 2005 investigation into Bobby Davis' claims of sexual molestation against Bernie Fine. From their report:
The report about the university's investigation into the then-assistant basketball coach — which SU refuses to release — includes a cryptic reference to a phone message Fine says his accuser, Bobby Davis, left for him in October 2004.

"Fine played the message in which Davis indicates he is calling to apologize; indicates what he did was wrong; and says that he is sorry," says the report, which The Post-Standard has obtained.

The report mentioned the message, but left key questions unanswered: What was Davis apologizing for? What did he mean when he said he was wrong? Did SU officials ask Davis about it?
The report continues:
SU interviewed only one of three men whom it says Davis told investigators he suspected Fine had molested as children, according to the report.

The report says officials repeatedly tried telephoning another of those three, Davis' stepbrother, Mike Lang. It does not say if attempts were made to contact him in person or by mail.

Lang, who in November accused Fine of molesting him, has lived 27 miles from the university since 1995. He says SU never called him.

Witnesses gave SU the names of at least nine boys who often visited Fine's house. Investigators interviewed two: Davis and Ludwig Vita.

Two of the seven statements SU obtained are from Fine and Davis. The other five are assistant basketball coach Mike Hopkins; Vita; Bernie's wife, Laurie Fine; Florida businessman Paul Missigman ; and former SU strength coach Corey Parker.

SU's investigators talked with head basketball coach Jim Boeheim but did not ask him to give a statement, according to the report.

The university took a statement from Missigman, a friend of Fine's, to check Davis' assertion he had little contact with Fine while Davis was in college.

But it does not appear the university tried to talk to a local man whom Davis told SU had abruptly ended his relationship with Fine, the report said.

Davis told the university he and Laurie Fine once went to the grocery store and left that person home alone with Bernie Fine. While Davis and Laurie Fine were gone, the person left and "never returned to the Fine residence," Davis said, according to the report.

"Davis thought this was odd and assumed that something had happened," the report said.

That man told The Post-Standard in 2002 that he never saw Bernie Fine act inappropriately toward Davis or anyone else. The newspaper is not identifying him, however, because it has been unable to interview him in recent months.

The university has said it conducted a "nearly four-month-long investigation" into Davis' claims. The report shows the process was a month shorter.

Davis accused Fine in an email to SU on Sept. 12, 2005. The report is dated Dec. 1, so the process took 11½ weeks, or less than three months.

Of about 30 names in the report, at least four are misspelled. One is a former SU women's basketball standout. Another is a former SU basketball team manager. Another is a local basketball-star-turned-business owner. The third is that of Parker, who worked at SU for at least six years.
You can read the entire 15-page
Syracuse University report here
.
Follow Nation of Orange on twitter
Like Nation of Orange on Facebook