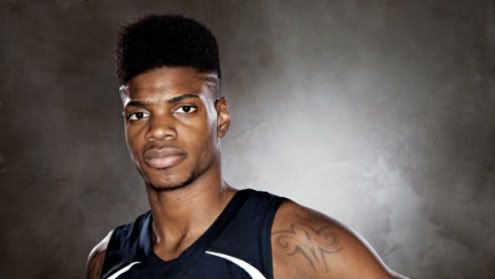 According to
Jon Rothstein of CBS Sports
, multiple sources are saying that prized recruit Nerlens Noel could play for Kentucky next year along with swing-man Shabazz Muhammad. According to the sources, "there is more than a legitimate chance of Kentucky landing the top two prospects in the Class of 2012."
While not crushing news, it would be disappointing if true for Syracuse fans. It was hoped that Noel would replace Fab Melo in the middle next season to make maybe the best front court in the country. Instead, that distinction will likely go to Kentucky with the addition of these two prized recruits.
Noel is considered the best player in the 2012 class. Muhammad was considered the best player in the class until Noel reclassified.
It should be noted this is by no means official or final, and the sources were not definitively saying he will go to Kentucky.
UPDATE:
Evan Daniels from scout.com tweeted out that Nerlens Noel has confirmed he has not made a decision yet. Michael Carter-Williams tweeted "don't believe what you hear people."
Adam Zagoria is reporting
there is no time frame for his decision.
Nerlens also texted
Nation of Orange saying it is false that he is a Kentucky lean.