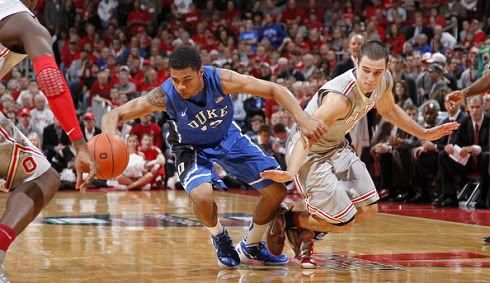 By Michael McAllister
Sources tell Nation of Orange that Duke transfer Michael Gbinije has committed to Syracuse. Gbinije had announced a couple weeks ago that he was leaving Duke after just one season. Syracuse was among the early favorites, and the Orange has now landed the 6'6" guard/forward prospect, according to sources. Gbinije was in Syracuse on a visit on Friday, and committed before he left town.
The Orange were very interested in Gbinije out of high school as they extended a scholarship offer then. Gbinije was also drawing interest from several other schools. He will likely be a guard for the Orange but is versatile enough to play forward as well.
Gbinije is a sharp-shooter who was ranked as the 7th best small forward prospect in the class of 2011 by Scout. Gbinije will have three years of eligibility remaining.
UPDATE: Syracuse athletics and Gbinije himself have since confirmed the story.