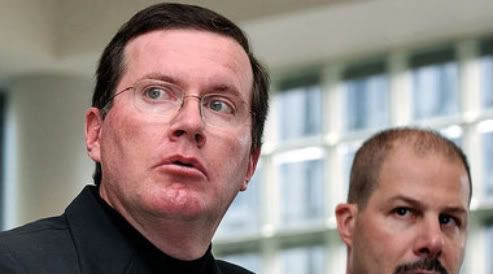 By Michael McAllister
In an odd twist to the Bernie Fine saga, accusations of a cover-up were abound Tuesday. Alleged sexual abuse victim Bobby Davis now claims he spoke with a detective in the Syracuse Police Department for approximately five minutes back in 2002. The detective, Doug Fox, apparently told Davis there was nothing he could do because the statute of limitations had run out. Davis claims that during the conversation, he asked Fox, "Do you know anything about this?" To which Fox replied, "go on, I have a pretty good idea who you are talking about." Davis responded by asking, "Do you know who I'm talking about?" Fox replied, "I kind of have a good idea." It appears Davis is insinuating that Fox knew he was talking about Bernie Fine. Fox then dismissing the allegations as "too old" is cover up claim number one.
At that point, friend and ex-girlfriend of Davis, Danielle Roach, contacted the Onondaga County District Attorney's office. She claims she called First Chief Assistant District Attorney Rick Trunfio. Roach claims she left several messages for Trunfio, but none of her messages were returned. According to Roach, she said she had information regarding a basketball coach at Syracuse University sexually abusing one of her friends in the message she left. She could not recall whether she included Bernie Fine by name or not. Roach said, "I assumed that maybe since Detective Fox had already given us his answer, this was why I was not getting any return calls." Roach seems to be claiming Fox and Trunfio is cover-up number two by blowing them off and not returning their calls.
Current District Attorney William Fitzpatrick responded to those allegations by saying, "That's not possible. If she had left a message alleging sexual misconduct on the part of any individual, whether it was Joe Blow or Bernie Fine or anybody in the world, there's not a chance in the world that Rick Trunfio wouldn't have returned that phone call. He's famous for returning phone calls. It makes me very, very suspicious about how this came to be from the Syracuse Police Department. It makes me even more determined to make sure I get their files to stop any further efforts by them to cover this thing up." It appears Fitzpatrick is attempting to deflect focus away from his office and onto the Syracuse Police Department, claiming they are covering something up. That would be cover up number three. His comments are also suggesting that Roach is lying. That maybe she's covering up her friend's lies by making this up in order to make his office look incompetent. That would be cover up number four.
Syracuse Mayor Stephanie Miner issues another statement Tuesday that said the following:
The public deserves to know who was aware of these allegations in 2002, what was done in response and if any individual or entity acted inappropriately in responding to these allegations. I have a long track record of demanding accountability from law enforcement officials and my standards are no different in this case. However, at this time, there is an active investigation underway and it is critical that we assemble a complete picture of the facts from 2002 to the present and then turn that information over to the appropriate authorities. Only then will we be able to fully answer the many outstanding questions related to this case, including who knew what and when.
All of this is on the heels of the
squabble between the District Attorney's office and the Syracuse Police Department
over subpoenaed records regarding this investigation. Regardless of what is actually going, it seems clear. Someone is not being truthful here. It's unclear who at this time. However, it should be noted, if it's the Syracuse Police Department or District Attorney's office, it may not indicate guilt on the part of Bernie Fine or a massive cover-up. While that's certainly a possibility, it could be simply that neither wants to be chastised for ignoring Bobby Davis' allegations, especially with ESPN and the nation watching. That does not excuse such actions. If the Syracuse Police Department (SPD) or District Attorney's (DA) office acted inappropriately, they should be reprimanded for it. And the more facts that come out, it seems either the SPD or DA's office (or both) handled some part of this inappropriately. However, if it comes out that Roach was lying about contacting the District Attorney's office, or Davis was lying about his conversation with Fox in 2002, it could debunk their entire case and ultimately prove Fine's innocence. Tune in later for the continuation of, "As Syracuse Turns..."