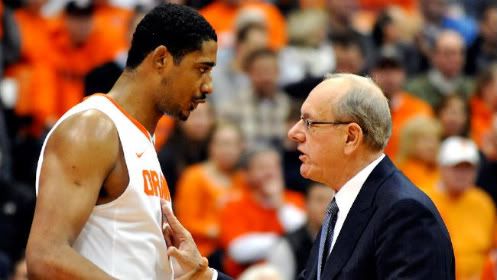 By Michael McAllister
We've all heard the rumors about Fab Melo. Twitter was blowing up with rumors early in the week. Some said they knew a professor at Syracuse and that Fab was certainly done for the year. Others said they knew his tutor, and that Fab wasn't even a student on campus anymore. Then there was one that said someone saw him at Hancock Airport boarding a plane to Brazil. It's amazing how rumors can spread so quickly and easily. All of those are false. All we know is he has an academic issue that has not been resolved.
But with Fab missing the Notre Dame and Cincinnati games, and likely to miss Saturday's game against West Virginia, how does this affect the team? We know it moves Christmas into the middle and brings Fair into the starting lineup. But what about the overall picture and the team's future? Christmas showed against Cincinnati that he can play in this conference. We saw the kind of ability and raw talent that made him a McDonald's All-American. He's already very good at blocking guys out and attacking the glass. He also has good defensive instincts, and a knack for blocking shots.
Fab's absence has allowed Christmas to develop into a guy that can give you 20 minutes a game without having to worry. Prior to that, Christmas was only going to play 3-5 minutes early in the game, and then wouldn't come back in unless the game got out of hand. With Fab gone, he was forced into action. And yes the Notre Dame game was a disaster. Not just for him, but for everybody. But even with that, he had four rebounds in 13 minutes. Watch Christmas' play going forward, specifically against West Virginia on Saturday. His confidence is much higher now. He knows even if he makes a mistake, he's still going to stay on the court because Boeheim has no other choice at the moment. That's big for a developing player. Now he can just play, rather than worrying about making a mistake. He will be matched up against Kevin Jones some of the night, who is probably the Big East player of the year to this point. It will be a tough test, but if Christmas passes it, his confidence will shoot through the roof.
With his improved ability to rebound and defend, Christmas has earned some minutes even when Fab returns. The Fab situation could end up being a blessing in disguise. We all know rebounding has been an issue this year. But With Christmas showing the ability to be a very good rebounder, that weakness could disappear upon Fab's return. That's not to say that Syracuse will suddenly become one of the best rebounding teams in the country. Not at all. But it will turn a clear weakness into something we don't have to worry about. Fab was the team's best rebounder. And without him, Notre Dame dominated in that area. But Cincinnati is a better rebounding and offensive team than Notre Dame. Yet Syracuse won the battle on the boards with the Bearcats. Christmas stepped up with a career high nine rebounds, Fair stepped up, Southerland stepped up, and Joseph stepped up. If they can continue their improvement when Fab comes back, suddenly this team is bigger, stronger, longer, and better on the boards. Not to mention deeper with Christmas' improvement. Prior to the Notre Dame game, he was averaging only three rebounds per game. In the last two since Fab's been out, he's averaging nearly seven. Yes the minutes have gone up, but so has the production.
Imagine a Syracuse team with Fab back in the middle, and Christmas on the wing playing with more confidence and displaying the type of rebounding we've seen in Fab's absence. A team that now can rebound with anyone, and has multiple guys attacking the glass with success. It improves the defense (which was already one of the best in the country), limits the opposing team's possessions, and allows the transition game to work better. Syracuse was one of the best team's in the country before Fab's issue. Without Fab, they are still a very good team. But when he comes back, they could be even better than they were before he left.