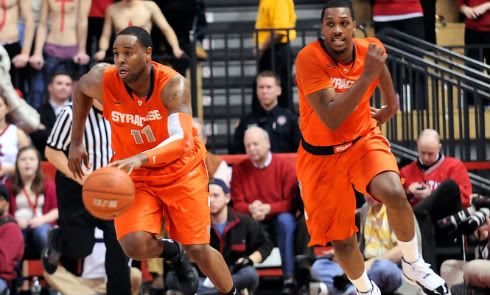 By Michael McAllister
When the final horn sounded on Saturday, reality sunk in. Scoop Jardine and Kris Joseph knew they'd never suit up for the Orange again. It was a reality soaked in heartache, disappointment, and honor.
You see, it wasn't the loss that hurt so much. As Scoop said after the game, "it's realizing I'll never be able to play with these guys again." As those words came out of his mouth, tears welled up in his eyes, and streamed down his cheek. Kris Joseph was simply speechless. Several times at the post-game press conference he was asked a question to which he would simply shake his head. A towel draped over his head was an appropriate symbol of how they both felt.
And sharing those feelings were Syracuse fans across the country. Yes there was some anger and disappointment in not reaching the Final Four. But mostly there was sadness about the realization that these two fine gentlemen would never represent the team they so beloved. Two seniors who stayed for four years in a time when that doesn't seem to happen at major programs. Two seniors who improved their games dramatically during their college years. Two seniors who represented what college athletics should be about.
Scoop Jardine, a 6'2" point-guard from Philadelphia who overcame so much just to get on the court, worked on his game and became one of the most improved players over four years in Syracuse's illustrious history. It was his leadership, especially during his final campaign, that separates him. Never has a player been so polarizing amongst Orange fans. There was the constant argument about whether the team was better with or without him. But that fueled his drive and determination to be the best.
Scoop was always a class act. His gesture to a young fan who gained notoriety for crying over Scoop's graduation was a move that signifies the type of man Scoop has become in his time here. He cared so much about this team, the coaching staff, and his teammates. His love for the game and passion for Syracuse was exactly what college athletics is supposed to be about.
Kris Joseph started as a freshman who looked lost at times. He developed into a player that many viewed as a potential superstar. While his senior season didn't quite live up to those expectations, his game improved dramatically as well. He finished his career with well over 1,000 points. He won national sixth man of the year in 2010. Both he and Scoop were on two teams that reach #1 in the country and #1 seeds in the NCAA Tournament. The first time in Syracuse history they've been a #1 seed in two out of three years. And both Scoop and Kris were at the forefront of those teams. He could have left for the NBA after his junior season, but came back to try to do something special.
So while the Final Four will be missing from their resumes, they have left us with some fantastic memories. There was Joseph being inserted into the six overtime game as a freshman. There was reaching #1 in the country for the first time in a long time after the 34,616 game in 2010. Joseph hitting six threes in an overtime win against Georgetown this season. Yes there are plenty of those memories.
Despite not reaching the goal this year, Syracuse fans should remember both Scoop and Kris in the highest esteem. Two seniors who represented the University with class and dignity for four years. Kentucky can have their one and done players. Give me players like Scoop and Kris any day.