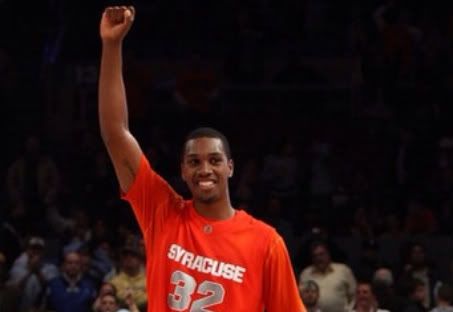 By Michael McAllister
In the most recent AP poll, Syracuse is #1 receiving 60 out of 65 first place votes. Out of the five people who did not vote Syracuse first, four had Syracuse ranked second. One voter, Ron Morris, writer for
The State
out of South Carolina, has Syracuse fourth. Yes, you read that correctly. Fourth. He has Kentucky first, followed by North Carolina, Ohio State, and then Syracuse. Both North Carolina and Ohio State have two losses.
Morris was on the local ESPN radio show, Upon Further Review, to defend his poll. His first argument was that Kentucky, North Carolina, and Ohio State are the three best teams in the country BY FAR. He then said he knows this by watching all of them play multiple times, but only watching Syracuse play once. He watched Syracuse play Florida, and said he came away from that game thinking Florida was just as good if not better. I'm not sure how anyone could watch that game and think Florida was better. Also, how can one make the conclusive statement that Kentucky, UNC, and OSU are all better "BY FAR" than Syracuse having only seen Syracuse once. If you're one of the 65 writers that has a vote, you have to watch a team more than once if you're going to take a stance like that. Only seeing Syracuse once and having that strong of a contradictory position is not right. His next argument is that Syracuse plays ten guys, and that's a weakness. Morris claims for a team to win a championship, they need three superstar players. Having ten that play is a bad thing come tournament time. Last I checked, having ten really good players is better than three. And you can wear teams down with that kind of depth. Had he watched Syracuse more than one, he'd see that they don't really play ten. They really play about 8.5 or 9. Christmas starts, but only plays a few minutes. He only comes back in when there's a blowout. Carter-Williams plays some, but sparingly unless there's a blowout. Once again, if you're going to have an opinion, you should be informed before making definitive statements like that.
A few other things Morris said that make some wonder whether he should have his vote stripped. He said that by tournament time, Syracuse will only play seven guys and Boeheim is just trying to figure out which seven right now. That's simply incorrect. You've got your five starters, Waiters will play, Fair will play, Southerland will play, and Keita will play. Every game. Some will get more minutes than others. But that's 9 players minimum. Not seven. I'll repeat myself again, if you only watch a team once, how can you make that statement? He was then asked what Syracuse could do in order to move up in his poll. He said in order for Syracuse to be number one in his poll, they would have to go undefeated in the regular season and Kentucky, UNC, and Ohio State would all have to "completely fall apart." So basically, he has Syracuse #4 and is completely unwilling to change that regardless of what happens during the season.
Morris has seemingly made himself foolish with his attempted defense of putting Syracuse #4 in his poll. Yes the polls are essentially meaningless at the end of the day. And yes Syracuse is still #1, so his poll hasn't really changed their ranking. But if you're given an AP vote, you should take the process seriously and submit an informed ballot. His simply is not, and that is by his own admission. You can't definitely make the claims he has about Syracuse having only seen them once. So have at it 'Cuse fans. Here's your new enemy. That doesn't mean we can forget about Gottlieb, however.