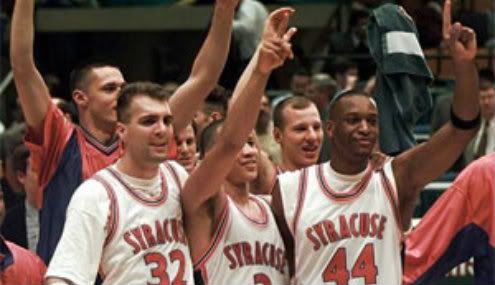 By Michael McAllister
Syracuse had not been to the Final Four since 1987, and few expected the 1995-96 squad to make the trip. However, this team was willed by one of the best stars the Orange has ever had. John Wallace was an absolute stud during his senior year. But maybe the best game of the season was against Georgia in the Sweet-16.
Often called one of the best NCAA tournament games of all-time, this contest had it all. A buzzer beater by Jason Cipolla to send the game into overtime. A back and forth overtime with seemingly three game winning shots, the last of which was a Wallace three-pointer which would prove to be the final difference.
We all remember the game. Many fingernails were chewed off, hair turned from black to grey in the span of a couple hours, and hear beats soared as the game wore on. Wallace almost single handedly carried the Orange to victory, in what will always be one of the most memorable games in Syracuse history.
Wrote
Hank Gola of the New York Daily News
:
You can sum up Syracuse's wild overtime victory over Georgia last night in two words.

John Wallace.

The senior forward, who passed up an early start in the NBA for one final year at Syracuse, simply carried the Orangemen on his back.

His floating three-point shot from the top of the key with 3.8 seconds left in overtime gave Syracuse an 83-81 win and its first Elite Eight appearance since 1989.

Wallace, playing with four fouls most of the second half, finished with 30 points, eight in OT, pulled down 15 rebounds, and made the amazing inbounds pass that freed up Jason Cipolla for the 14-foot jumper that sent the game into OT....

...But then there was Wallace. He had been dominating inside during most of the OT, with Georgia's big men, Carlos Strong and Terrell Bell, both fouled out. The Orange game plan was simple after that. Let Lazarus Sims find Wallace and go to work on 6-6 Steve Jones.

But after Robinson's final bomb, it was up to Wallace to bring it upcourt himself.

"I saw Robinson and gave him a little move and headed to the middle," Wallace explained. "I felt I had a good look. The person in front of me never left the ground. he just put up two hands and I elevated over him."

He hasn't been throwing the ball inbounds this season, but Boeheim stationed him at center court because he can see better than anyone else.

The inbounds play was initially picked up by Georgia and Cipolla alertly faded toward the baseline with Shandon Anderson fronting him. With the five seconds about to expire, Wallace tossed a lob pass over Anderson's hands, and Cipolla nailed the clutch shot.

"Anybody else throwing it out, the game's over. They don't see him," Boeheim said.

Cipolla's shot capped off a rally from nine down with 3:28 to play, a comeback that was sparked by two straight threes by Sims. Georgia started the second with a 20-3 spurt (including five straight threes) while Wallace was on the bench. He returned with Georgia up 10, and never came out again.

"John's an experienced player, and he didn't come close to picking up another foul," Boeheim said.

As it turned out, it would have cost Syracuse the game.
Syracuse vs. Georgia Box Score
Jason Cipolla's shot to send it into overtime:
The crazy finish in overtime:
Follow Nation of Orange on twitter
Like Nation of Orange on Facebook
Photo credit: web.sny.tv