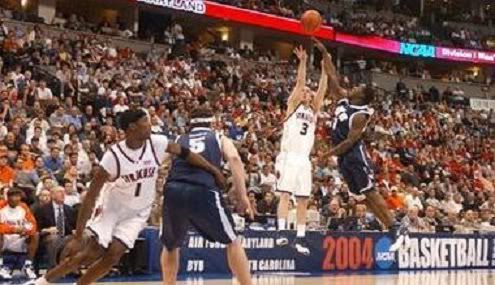 By Michael McAllister
This is the first installment of our new series, "Remember When" where we will look back at classic Syracuse basketball and football moments between now and the start of the football season. Every Friday we will have a new "Remember When" moment. So, on to the first one.
It was the season immediately following the national title. Gone was Carmelo Anthony, who had been taken with the third pick in the NBA draft. But still remaining were Hakim Warrick and Gerry McNamara. The Orange had finished the season 23-8, and earned a five seed in the NCAA tournament. Their first opponent was 12th seeded Brigham Young University. BYU was a popular upset pick. Early in the game, that seemed to be the way things were going. But McNamara would have none of that.
All he did was score a Syracuse NCAA Tournament record 43 points on 11-17 shooting. But more impressively, he was 9-13 from three-point range, third best in NCAA Tournament history at the time. From
Kelli Anderson at SI.com
:
The whole game was one shining moment for point guard Gerry McNamara, whose 43 points prevented an early exit for the defending champions. McNamara made many huge shots -- his nine three-pointers set a Syracuse NCAA tournament record -- but his most critical contribution came in the last 4:47 of the first half, after forward Hakim Warrick was sent to the bench with three fouls.

McNamara, who already had 15 points, almost single-handedly cut BYU's lead from 11 to two by adding another 13. In quick succession, he made a three, a free throw, a layup, four more free throws and a fastbreak three to pull Syracuse to within two with 1:24 left in the half. "He was the only thing we had going in the first half," said coach Jim Boeheim after the game, adding that McNamara's performance was "as good as I have ever seen in college basketball."

"With Hakim out, I had to pick up my play," McNamara said later. "When you're feeling it, you have to roll with it."
Syracuse actually abandoned the zone in this game, as BYU was shooting lights out from the outside. The switch in defense, along with McNamara, fueled Syracuse's win despite being out-rebounded 34-20. Hakim Warrick (20) and Demetris Nichols (10) joined McNamara in double figures.
The shooting performance was one of legends, as he seemingly couldn't miss. "Right from the beginning, from that first shot I took, it felt good," said McNamara after the game. "So when you have it, you have to roll with it. You have to keep throwing it up there."
From the
Daily Orange on McNamara's performance
:
McNamara scored the most points in the NCAA Tournament since Wally Szczerbiak scored 43 against Washington in 1999. McNamara's 43 was the most points ever scored by a Syracuse player in the tournament, breaking Gary Clark's record of 34, set against Lafayette in 1957. Also, his nine tournament 3-pointers were the most of any SU player.

Want more? The last time a Syracuse player scored 43 points was in 1971, when Bill Smith scored 47 against Lafayette. Only four SU players have ever scored 40 in a game.
Box Score
Game Recap
Enjoy the highlights from one of the best performances in Syracuse history:
Follow Nation of Orange on twitter
Like Nation of Orange on Facebook
Photo credit: Dennis Nett, Syracuse Post-Standard