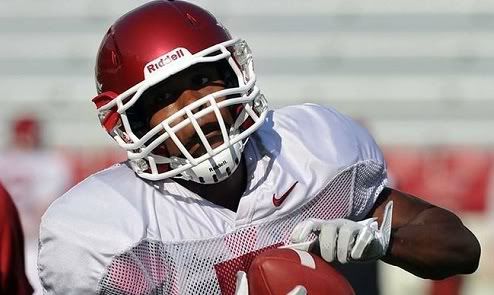 By Michael McAllister
Former Arkansas wide receiver Quinta Funderburk has chosen to transfer to Syracuse, according to Ryan Murray from
Cuse Confidential
. Funderburk had decided to transfer amidst the turmoil at Arkansas regarding coach Pentrino's departure. Murray spoke with Funderburk's former high school coach, who said he chose Syracuse as his destination.
Funderburk will enroll at Syracuse this summer, and be on the team this fall. He adds a big frame and SEC speed to an Orange offense in need of playmakers. He was listed at 6'4" 200lbs on
Arkansas' spring roster
. Funderburk was slated to be the third receiver on an Arkansas offense that was expected be explosive, and among the nation's best. Funderburk will have to file a waiver with the NCAA to play this season and not have to sit out. The NCAA could grant him that waiver due to the coaching change at Arkansas.
The Orange were in on Funderburk out of high school, who also had offers from Alabama, Florida, Michigan, Penn State, Virginia Tech, USC, and of course Arkansas among others.
Follow Nation of Orange on twitter
Like Nation of Orange on Facebook