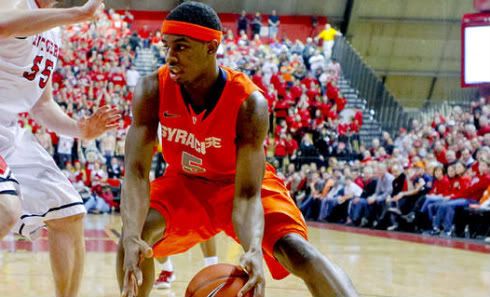 By Michael McAllister
Coming into the season, C.J. Fair was just another player off the bench that Syracuse could throw into the mix of their extremely talented depth. However, 28 games into the season, Fair has quietly become arguably Syracuse's most steady and reliable player.
In nearly 27 minutes per game, Fair is scoring over nine points, grabbing nearly six rebounds, dishing out one assist, while getting a steal as well. He's shooting 48% from the floor, and nearly 32% from beyond the arc. No his outside shooting isn't spectacular, but he doesn't take a ton of them. His free-throw shooting has drastically improved from last year, moving up to 74% from 61%. All of this while not being one of the top three offensive options most nights.
His game is versatile. He can shoot the baseline jumper, he can drive to the hoop, and is crafty finishing at the rim. He also has the athletic ability to throw it down with the best of them. In fact, he's nominated for
Geico play of the year
for his dunk on Pittsburgh. When teams play zone against Syracuse, he's the guy who goes to the free-throw line to hit mid-range jumpers or find open teammates.
But maybe more impressive is the steady, quiet production he gives game in and game out. More often than not, when the game is over, he's not the one most are talking about. Maybe Dion Waiters had a thunderous dunk, or Scoop Jardine made some daggers from the outside, or Fab Melo blocked a bunch of shots. But there is Fair, every game, Mr. Reliable, with 8-12 points, 6-8 rebounds, and solid defense.
"He's the guy you have to have if you're going to win a national championship," Scoop said of Fair. "He's always making the right play at the right time in the right moment." Scoop went on to say, "I told him if continues to play like this we have a really great chance at winning a national championship because he's a guy you can't stop." He's right. His production off the bench is always quiet, unassuming, and yet vital to the long-term success of this team. Many have compared him to Josh Pace from 2003. While their games are completely different, their contribution is similar. Both are extremely productive off the bench, and both seem to be everywhere on the floor. Scrappy, gritty type players. But Fair's offensive game is more versatile, more explosive. When other things aren't going well, there's Fair to pick up the slack. In the first half against Rutgers, Joseph was struggling, as was Waiters. But Fair was dominant, and along with Scoop, kept the Orange in front.
Some have said he's the glue-guy on this team. But he's more than just a glue-guy. "He could be a star on another team right now," Jim Boeheim said of his sophomore forward. "He's that good."