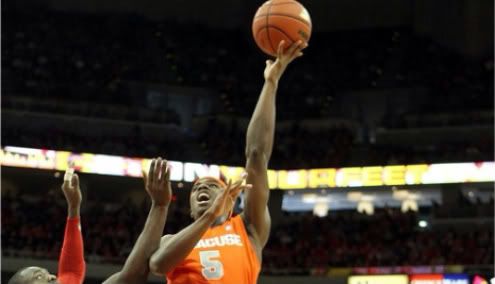 Michael McAllister
The small forward position is a perplexing one this year. Yes there's Kris Joseph, who will be counted on to be the scoring leader of this team and pick up some of the rebounding slack from the departure of Rick Jackson. But what's left behind him? CJ Fair showed flashes of brilliance last year, but there's been some debate as to whether he's a three or an undersized four. However, he's clearly the next option. After that? James Southerland seems to be the only candidate. In a pinch, Triche or even Mookie Jones could probably play there. But are we really comfortable with James Southerland? He seems to be the one the fans point to as deserving of more minutes whenever things aren't going well. So let's take a look at this position and evaluate their role for the upcoming season.
Kris Joseph
Your prototypical Jim Boeheim small forward. 6'7", long and athletic. Good but not great jump shot, has a knack for scoring the ball. But there's something extra with Joseph. He has a great ability to attack the basket, slash to the hoop, and finish with the best of them. An outside shot was added to his game last year, and despite his reputation, actually shot the ball pretty well from the outside (36.6% from three, up from 22.0% the year before). While he failed to meet expectations last year, let's not forget he was still the leading scorer averaging over 14 points per game. The most disappointing part of his game last year was actually his rebounding. He averaged 5.5 rebounds per game two years as a reserve, and many assumed as a starter that number would climb to over 6, maybe even 7 rebounds per game. It didn't. In fact, it dropped to 5.2 rebounds per game despite playing 5 more minutes per game. Joseph needs to be better. He knows it, and we know it. He needs to be the "go-to" scorer this team desperately needs. And I expect that to happen this year. With his combination of athleticism, quickness off the dribble, driving ability, and outside shooting, he should be an offensive force. His rebounding is also expected to improve. There's no reason at his size, length, and athleticism, he shouldn't be over 6 rebounds per game. Absolutely no reason. If his three point shooting can improve as much as it did from two years ago to last year, it will be HUGE in his development. Teams won't be able to sag off of him to take away his driving ability, because he will be able to kill them from outside. There's something about Joseph that just feels like he can get close to 40% from down town this year. Another key point of his game is his length in the zone. His long arms can cause a lot of pass deflections, blocks, etc. He makes the front line big, long, and quick at every position. It should be very difficult for opposing teams to drive to the hoop consistently. Joseph's game is so strong that he's even projected to be a first round NBA draft pick (if they ever play again) in the 2012 draft. Kris should lead the team in scoring, and be a good rebounder for this team as well. The biggest problem with him last year seemed to be after his horrible fall that caused him to miss a few games, he lost some of his aggression. I expect that to change, and expect to see an aggressive and improved Kris Joseph.
CJ Fair
Everyone expects CJ to be a fantastic player by the time he's done. And deservedly so. He showed a lot of potential as a true freshman last year. He is a crafty slasher to the hoop, has a very good Josh Pace like floater, and an underrated outside shot. But perhaps his best attribute is his rebounding. He has an uncanny ability to be around the ball and gain rebounding position. I love what I see from him in that area. CJ is also an efficient scorer, shooting 54% from the field last year. Now granted it was in limited opportunities, but he should have more this year, and I don't expect that number to dip much. His versatility comes in that he can come off the bench to spell Kris Joseph, or even come in for Rakeem Christmas if the Orange decide to go to a smaller lineup. CJ Fair's basketball IQ is off the charts. He just has a great feel for the game, and doesn't make poor decision. Reportedly, he's been working all offseason on his outside shot. If that improves and he becomes a consistent threat from the outside, if gives this Orange team yet another very good scorer who can kill you in different ways. CJ will be coming off the bench this year, but will be a good source of energy, scoring, rebounding, and scrappy play that can often times be the difference in winning and losing. While Syracuse fans may need to wait another year before he gets his shot to be a full-time, front line starter, he will be a glue guy that is vital to the team's success.
James Southerland
James' athletic ability and talent are unquestioned. For whatever reason, it doesn't seem to translate to consistent play on the court. In one game, he will score 12 points in about 5 minutes, and the next game go 0-3 and contribute nothing. Some have suggested it's because coach has a short leash with him. While that may be true, the short leash is there for a reason. He's not a very good defender and is frequently out of position. He also contributes little, if anything, to the offensive and defensive glass. Every year he thrills us with spectacular dunks and displays of raw athletic talent at midnight madness. This leaves many feeling as if he deserves time on the floor. And I do think there's a roll for him, but it's not anything more than 5-10 minutes per game to give an offensive spark. At least based on what we've seen so far. It's entirely possible his game has improved so that he is a good defender and rebounder now. But until I see it, I'm going to stick with the previous analysis.
What will be interesting to see how Boeheim uses Fair and Southerland. I have a feeling you're going to see a lot of smaller lineups, utilizing Fair as the power forward in the zone, and swapping between Melo, Keita, and Christmas in the middle, depending on the situation. While we know Joseph will get 30+ minutes per game, Fair needs 20 or so minutes per game, and maybe more. The good news is, coach has options. Which he seemingly does at every position.