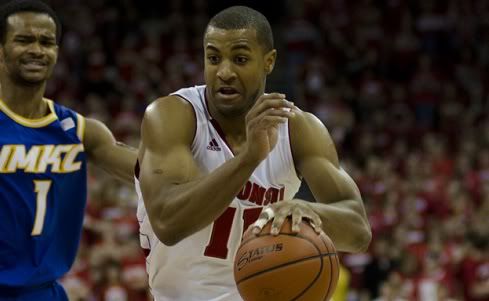 By Sean Fernandez
After the opening weekend of the NCAA tournament, Syracuse has survived and advanced to the Sweet-16. After wins against UNC-Asheville and Kansas State, the 33-2 Orange will travel to Boston, Massachusetts, where they will take on the 4th seeded Wisconsin Badgers on Thursday night. Bo Ryan has brought the Badgers to the NCAA tournament in each of his 11 seasons as Head Coach, and the folks in Madison are hopeful that they can become the first #4 seed to make the final four since 2006 (LSU).
The Badgers are led by their floor general, point-guard Jordan Taylor, who scores 14.7 points per game and adds 4 assists per game in nearly 36 minutes of action. The senior takes care of the ball and boasts an impressive assist to turnover ratio of 2.5 to 1. Small forward Ryan Evans and big man Jared Berggren also score in double figures and haul in 5-plus rebounds per game.
While playing against a 2-3 zone, three point field goal percentage is a crucial statistic. The Badgers love to shoot threes (they took 33 against Vanderbilt in the Round of 32), and they have been lethal at times from beyond the arc. As a team, they shoot 36.2% from deep, but players like John Gasser can catch fire if left open. He is 3rd in the Big Ten in 3pt field goal percentage, making nearly 46% of his threes. Contesting all three point shots, especially those from Gasser will be a key for the Orange.
Syracuse Sophomore Dion Waiters has been heralded as one of the best guards in the tournament, and he has led the Orange in scoring through the first two games with 15 points per game. He will have to be productive on Thursday, as will the senior leaders Kris Joseph and Scoop Jardine. In Fab's absence, the offense has shifted to a more perimeter oriented style, making it even more important for these three (and Brandon Triche) to play well.
When starting Center Fab Melo was ruled ineligible for the NCAA tournament, many fans wondered who would step up and shoulder the load. Well, James Southerland and
Rakeem Christmas
have done just that. Southerland has been outstanding off the bench, scoring 15 points in each of the first two tournament games. Christmas has also performed admirably. He played the best game of his short career on Saturday, nearly notching a double-double with 8 points, 11 rebounds, and 3 blocks against Kansas State. These two have flown under the radar for much of the season, but will have to continue to play big for the Orange to advance.
Rebounding has been an issue for the Orange all year, and with the loss of Fab, it was assumed by many that SU would be clearly outmatched on the glass in every contest. Not so fast… While the Orange aren't a good rebounding team, Wisconsin is even worse in that regard. SU is 125th in the nation in rebounds per game, and the Badgers are 210th. The Badgers are undersized, and only have one player above 6'6" that sees significant minutes. Jared Berggren is the tallest Badger at 6'11", and will be battling all game against Christmas and Keita. Winning the battle on the boards will be crucial, as it always is.
Syracuse and Wisconsin play two very different styles of basketball. The Badgers focus on limiting turnovers (they only average 9 per game) and slowing the game down, while the Orange thrive on causing turnovers and scoring in transition. It's no secret that Syracuse has struggled when forced to run half court sets, so the pace of the game will be crucial in deciding who will march on to the Elite 8.
As a member of the Big Ten Conference, Wisconsin has obviously faced their fair share of quality opponents. They've played 12 games this year against ranked opponents, beating Indiana, Ohio State and Illinois while playing tough against UNC, Michigan State and Marquette. They are battle tested.
This is the first meeting between these two schools since 1999. They have two very different styles of play, but this game will feature two storied programs putting it all on the line to get one step closer to their ultimate goal; New Orleans.
Four Keys to an Orange Victory
1. Rebound:
It's always the biggest key, especially without Fab. As stated earlier, Wisconsin is a small team. Being able to limit the Badgers to one shot per possession will be a huge key.
2. Force turnovers:
Wisconsin is known for protecting the ball and slowing the pace of the game. A half court oriented game can be dangerous for the Orange, so it is vital that the SU guards create turnovers and get easy points in transition.
3. Get C.J. Fair back on track:
C.J. has struggled in both the Big East and NCAA tournaments, scoring a total of 10 points in the last 4 games. Scoring points is only one aspect in which he excels, but the Orange are a better team when he is effective.
[B]4. Stay at home on shooters:B] Wisconsin loves shooting threes. If left open, they will take them, and make them. Especially John Gasser. The guards and wings will have to be especially active in contesting every shot.