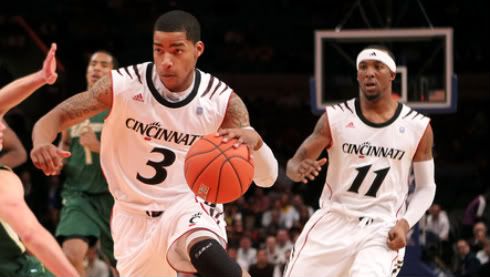 By Michael McAllister
Coming off its first loss of the season, the Orange look to get back to its winning ways on the road against Cincinnati. While the Bearcats are coming off a loss (77-74 in overtime to West Virginia), they have been playing very good basketball of late, having won 10 of their last 12 contests. Syracuse will once again be without Fab Melo.
Cincinnati is led by a guard-heavy rotation, including leading scorers Sean Kilpatrick and guard Dion Dixon. Kilpatrick is scoring 16 points per game, while shooting over 39% from beyond the arc. Dion Dixon is scoring over 13 points per game. Point guard Cashmere Wright has been terrific this season, scoring nearly 11 points per game, while dishing out nearly five assists per game. He's shooting just under 39% from the outside. All three guards are averaging slightly under two steals per game. Junior guard Jaquon Parker is a threat from the outside, shooting nearly 55% from deep.
Inside, Yancy Gates is the main threat. He's scoring 12 points per game while grabbing over nine rebounds. At 6'9", he's not much of a shot blocker, but he's a big body that provides a physical presence on the interior. He is good in the low post, and an excellent rebounder. The only other real threat inside is 6'8" sophomore forward Justin Jackson. He's a good, unspectacular player who is better defensively than offensively. He's averaging over one steal per game, as well as one and a half blocks per game.
The Orange are coming off its worst offensive performance of the season, shooting only 34% from the floor against Notre Dame. In that game, the Irish had a good mix of inside/outside play, as they hit threes and dominated inside. Rebounding and post play were key as the Orange lost unexpectedly. Without Fab Melo, the inside of the zone seemed especially vulnerable. His big body wasn't there as a safety valve in the back of the zone, nor was it there to help on the glass. Cincinnati will have shooters all over the floor, and have very good rebounders inside. It's a similar challenge as Notre Dame was. However, Cincinnati is more talented, and a better basketball team. Much like Notre Dame, Cincinnati doesn't turn the ball over very often, which could prevent Syracuse from having many transition opportunities.
Kris Joseph must respond after a horrible game against the Irish. He turned it over, didn't shoot it well, and was unable to pick up the slack on the boards. Dion Waiters shot the ball very poorly as well. Brandon Triche was nowhere to be found, and Scoop Jardine didn't have a single field goal. Yet Syracuse was still in the game late. Expect a much better performance as the Orange should be extra motivated to prevent starting a losing streak. That said, without Fab Melo inside, it will be a difficult challenge. The Bearcats are a good team. They have very athletic guards that can hurt you in a variety of ways, and the inside presence to take advantage of Melo's absence.
Four keys to an Orange victory:
1. Get out in transition: Syracuse forced 17 turnovers against Notre Dame, but the chances to run in transition were minimal. This must change against the Bearcats. Syracuse has struggled in their half-court offense, so easy transition buckets will be key. Dion Waiters and Brandon Triche need to force more steals, and run at every opportunity.
2. Rebound: The Orange cannot have another game where they are dominated on the glass. In the last two games, Syracuse has been out-rebounded by a combined 75-48. That type of domination cannot happen again. They don't need to win the battle, simply keep it close. Kris Joseph, Rakeem Christmas, and Baye Keita will be key to making this happen.
3. Make shots: Syracuse missed a lot of open looks against Notre Dame. Waiters missed shots he normally makes, and Joseph continued his recent struggles from the outside. Triche also missed good looks, as did Scoop. Making open shots will be vital to the Orange winning on the road.
4. Hold their own inside: Yancy Gates is the type of big, physical player that Fab Melo has faired well against. However, he's a bad matchup for both Keita and Christmas. Both must step up and not allow Gates to dominate the glass, score frequently in the low post, and create second chance opportunities.