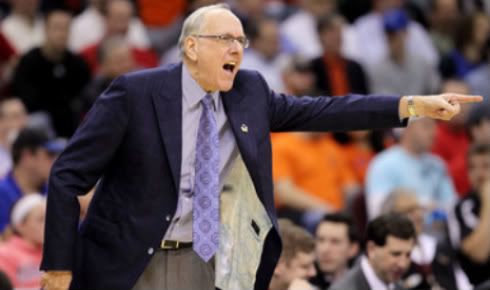 By Michael McAllister
This season has been about exercising demons for the Orange. Pittsburgh has had Syracuse's number in recent years. In fact, neither Kris Joseph nor Scoop Jardine had ever beaten them. That changed this year as they were able to beat them earlier in the season.
Louisville had beaten Syracuse seven times in a row, and was another team neither senior had beaten. The Orange beat them twice this year.
Connecticut is always a team Syracuse struggles with. And they haven't beaten UConn three times in a season since 1984. They did that this year.
Syracuse finished 17-1 in conference play, and 30-1 in the regular season. They've since won three more games, moving their record to 33-2, good for the most wins in a single season in Syracuse history.
Even with all of that, the Orange are not done facing unfavorable trends. Let's start by acknowledging that both are meaningless to the outcome of Thursday's game. Let's get that out of the way. But they are interesting to look at.
Jim Boeheim is 0-6 all-time against the Big-10 in NCAA Tournament play. He lost to Iowa in 1980, Ohio State in 1983, the team that shall not be named in 1987, Illinois in 1989, Minnesota in 1990, and Michigan State in 2000. In only two of those games (1980 and 1990) Syracuse was the higher seed. Isn't it ironic that standing in the Orange's way of another Final Four in New Orleans is Wisconsin and potentially Ohio State, two Big-10 teams.
Another trend is Syracuse's lack of success in the Sweet-16. Despite Boeheim producing a sterling 7-3 record in the Elite-8 and beyond, he's only 4-11 in the Sweet-16. The Orange haven't advanced beyond the Sweet-16 since their National Championship run in 2003. They are 0-3 in the Sweet-16 since then.
This Syracuse team has overcome adversity, balked at negative trends, and continued to win games. Nothing seems to faze this team. They are as mentally strong a team as Boeheim has ever had. So while a lot of focus and discussion will be on why they can't, they will prove why they can.