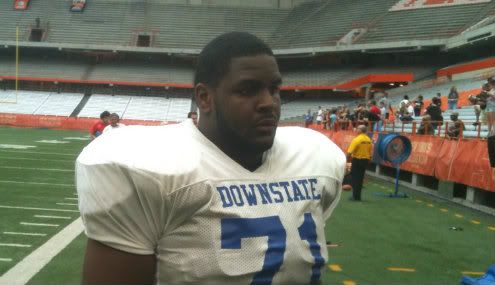 By Michael McAllister
During the upstate/downstate game, Omari Palmer was maybe the best player on the field. He showed the skills as an offensive lineman that should have Syracuse fans excited. We recently caught up with the big guy to discuss his future at Syracuse.
From the beginning, Syracuse felt like home to Palmer. Coach Anselmo sold the program to him as his family. "Syracuse felt like a great fit for me to grow and develop as a player and a person," Palmer explained. And so he made his pledge to play for the Orange.
But he knows the work does not end there. If he is going to make an impact right away, he must improve his weaknesses. "I have a lot of weaknesses. Too many to list," Palmer said. "As time goes by, my weaknesses will diminsh." Palmer also knows why Syracuse had such strong interest in him. "My strength would probably be my run blocking coming from such a run heavy team."
Coming in as a freshman is never easy. You are immediately behind returning players in terms of learning the system, experience, and the speed of the game at this level. All Palmer wants is a chance. "The coaches said I have a chance to start," he said. "I'm going to have to compete. It's going to be difficult to start as a freshman between adjusting to school and learning the playbook. But I'm going to give my best effort to start."
But despite those challenges, it is something to which Palmer is looking forward. "I'm looking forward to the whole situation of being a scholar-athlete, going to school at Syracuse, living on campus, and just playing football at the college level." And he has lofty goals for the Orange as well. "I want to strive for the best," says Palmer. "For myself and the team. Every year we should come into the season focusing on going undefeated and winning a national championship."
While the first year of his career he will be playing in the Big East, Palmer is looking forward to the challenges that await in the ACC. "I love it. It's going to have us playing better competition," he explained. "It's going to have us watched up and down the east coast, and it's going to bring in more recruits."
Palmer also has a message to Syracuse fans on why they should be filling up the Dome for every game. "Cuse football is being revitalized and is going back to its former glory."
Follow Nation of Orange on Twitter
Like Nation of Orange on Facebook