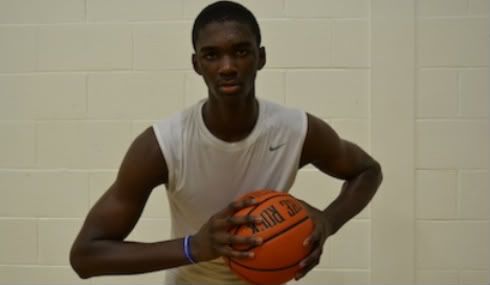 By Michael McAllister
Noah Vonleh is the #1 power forward prospect in the 2014 class, and currently holds an offer from Syracuse. He's long, athletic, and has the skills that would allow him to flourish in the Orange system. In recent AAU events, Vonleh tells us he's been averaging 18-20 points, 11 rebounds, and 2-3 blocks per game. Noah recently spoke with us to update his recruitment.
Nation of Orange:
What AAU events have you played in so far?
Noah Vonleh:
I played in the Adidas VIP Exclusive in Las Vegas. We won our pool playing Indiana Elite and Memphis Magic. Both were good games. We lost to the Atlanta Celtics and Florida Rams. I played really well, created for others and attacked off the dribble. My team played great but we're still young.
Nation of Orange:
What colleges were out to see you at that tournament?
Noah Vonleh:
Boston College, Georgetown, Florida, North Carolina, UConn, and a few others.
Nation of Orange:
Where are you in your decision making process? Any early favorites?
Noah Vonleh:
No favorites right now. I'm still taking every school in right now. Taking my time.
Nation of Orange:
Who have you been hearing from the most lately?
Noah Vonleh:
I've been talking to coach Thad from Ohio State and coach Pasternak from Arizona. They told my coach to have me call them so I did. They told me to keep working hard and that I'm one of their priorities for my class. Coach Pasternak talked to me about how they develop their bigs and how I could fit in with their program.
Nation of Orange:
When was the last time you heard from Syracuse?
Noah Vonleh:
I can't remember. I haven't talked to them for a while. But I'm still considering them. I'm wide open right now, so they're definitely still in consideration.
Nation of Orange:
Any time frame for your decision?
Noah Vonleh:
I'm still taking my time. It's still early for a decision.
Nation of Orange:
What are the most important factors for you when deciding where to go to school?
Noah Vonleh:
I'm looking for a school that best fits my style of play, and has good academics.