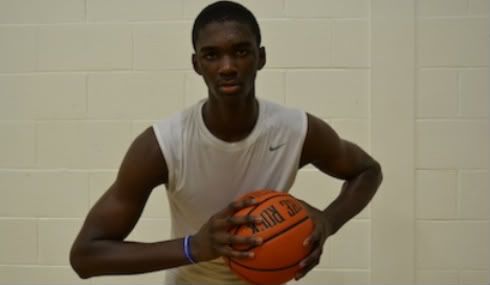 By Michael McAllister
Noah Vonleh was among several prospects visiting the Connecticut campus on June 27th. He came away with positive thoughts about the experience.
"It was good," he said. "We played pick up and toured the campus. I got to sit down and talk with coach Ollie and Calhoun. The facilities were nice. I've always liked coach Ollie and Calhoun. The campus was nice. This was my third time up there. They are adding a new gym in 2013."
Vonleh says the staff told him how well he'd fit in there, and they like his versatility. Despite the good visit, he says it didn't change anything. "I'm still open to any school," he told us.
That includes Syracuse. As of a couple weeks ago, Syracuse had not contacted the talented forward in quite some time. That changed recently, however. Vonleh said coach Boeheim himself called within the last few days. While Vonleh missed the call, Boehiem left him a voice mail reminding him of their interest. He said he was happy to be hearing from Syracuse again, but clarified that he's still wide open. Vonleh says Syracuse is still an option for him, and he plans on calling Boeheim back soon.
Follow Nation of Orange on Twitter
Like Nation of Orange on Facebook