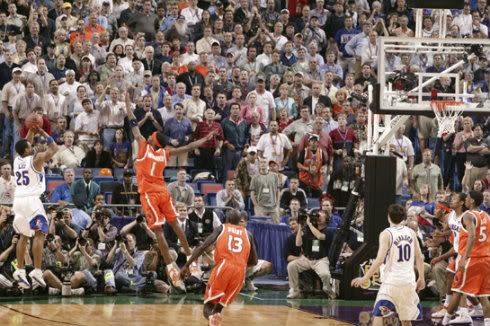 By Michael McAllister
Saturday April 7th was the nine year anniversary of Syracuse's only national title to date (assuming of course you aren't including those Helm's national titles from the early 1900's). Hakim Warrick's acrobatic block sealed the Orange's fate as national champs.
We all remember the game. Gerry McNamara's six first-half three pointers. Duany's three to give the Orange an 18 point lead. Josh Pace's big contribution off the bench. Craig Forth's unexpected points. And of course Carmelo's superstar play, Kansas' furious rally, and the Orange holding on. Warrick's block becoming one of the most iconic plays in Syracuse and final hour history. Boeheim's hands extended into the air triumphantly, and the players piling on each other at center court.
I remember exactly where I was when that happened, as I'm sure everyone does. I was in college in Rochester watching in my dorm room. When the final shot missed and Jim Nance exclaimed "and Syracuse is your national champion!" I ran out of my room, hugged one of my best friends, and ran outside. I proceeded to hug several people I didn't know, before running back into my dorm to watch the trophy ceremony. Luckily none of those strangers pressed charges. The only downside was I couldn't call my dad. You see after almost every game, we could talk on the phone. Syracuse sports was the way we bonded over the years. And on the biggest moment in Syracuse basketball, my dad was stuck doing a sleep study in down town Syracuse. While he was able to watch the game, he was supposed to sleep afterwards. That obviously didn't happen, but because of that I had to wait until the next day to share the moment with my dad.
There was the ice storm that caused a lot of Orange fans to lose power. Thousands packed the Dome to watch the game there as an alternative.
The title took a huge monkey off of Jim Boeheim's back, and turned Carmelo Anthony into an immortal Syracuse icon. He became just the third freshman to be named Most Outstanding Player. Gerry McNamara's legend was only just beginning. Syracuse was no longer a good program that couldn't win the big one. Syracuse was on top of the college basketball world. Carmelo may have left after that one historic season, but his stamp on the program is still being felt.
Yes it was an amazing day. A day when all of the let downs, the close calls, the crushing defeats could be forgotten and left in the past. A day when Syracuse fans could hold their head up high and say "we're number one" and be right. When SportsCenter and sports talk radio across the country was all Syracuse all the time. When "One Shining Moment" brought a tear to the eyes of Syracuse fans young and old. We won. It WAS possible.
So nine years later, remember that feeling. Remember where you were. Relive that moment, the joy, the triumph. Feel free to leave a comment and tell us your thoughts, feelings, and experiences from April 7, 2003. Just in case you're having a little trouble, here's a little inspiration: