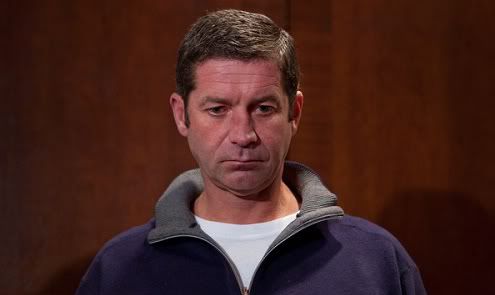 By Michael McAllister
Mike Lang spoke with the Post-Standard
in the wake of the Laurie Fine lawsuit against ESPN. But, once again, the things he said brought more questions than answers.
In the interview, he addressed the issue regarding using Bernie Fine's tickets and wanting his sons to be ball boys. "I tried to use Bernie for whatever I could. I know he used me. I figured he owed me a little bit of something." Something about that doesn't make sense. The tickets, I get. If you figure he owes you, you try to get tickets as often as you can especially being a Syracuse fan. Maybe it's not the best way for him to make up for the alleged allegations, but there's a logical rational there. Having his sons be ball boys, however, does not. Both he and Bobby Davis claim they were first molested by Bernie Fine when they were ball boys. It traumatized them immensely. Yet, Lang then wants to put his children in a situation where they could be subject to that same horrific treatment? It just doesn't make sense.
He then went on to discuss what happened with him and Bernie Fine. "Nothing really happened to me. That's what the big thing is, or I would've never brought my little brother on. (Fine) grabbed me, it was nonchalant. I always felt a little weird. He tried to touch me in my penis on the outside of my shorts or whatever and I pushed his hand away. But nothing happened to me like it did to Bobby." He makes it sound like it was something that happened once, maybe twice. That Fine tried to grab him, he pushed his hand away, and that was the end of it. He even said "nothing really happened to me." Yet, earlier in the same interview he said, "Believe me. Things did happen to me, and that's the only reason I came out." It also seems contradictory to his
original story
, in which he said Bernie Fine molested him dozens of times. He told CNN, he used to tell Bernie Fine to stop, but "you couldn't tell him no." He even told CNN in regards to how many times Fine molested him, "20, 30, 40. When do you stop counting?" So, did Fine molest him dozens of times and he couldn't tell him no? Or did nothing really happen to him and all he did was push his hand away and it was over?
Maybe the most interesting part is when Lang admits the lawsuit was the only way to keep the Bernie Fine story in the news. The article says:
Lang said he agreed to file the lawsuit in December "for my little brother. He really had issues with Bernie. I mean, Bernie really did things with him."

The lawsuit was the only way to "keep it riding" in the news, Lang said.

"I didn't even want to pursue the lawsuit," Lang said. "I'm kind of glad (Boeheim) won that case. Why not? He was just sticking up for Bernie."

But Lang maintained he and Davis weren't lying and that they should've won their slander suit.
So not only did Lang not want to pursue the lawsuit to begin with, but they did it to keep the story in the news? Why? If all he was after was stopping this from happening again (as he and Davis said on numerous occasions), wasn't that already accomplished? No one would have trusted Bernie Fine after everything that has come out. As far as the public was concerned, he was a child molester. And, the investigation was still ongoing. Shouldn't that be trusted, that they will find something? That comment seemed very odd, and suggests the lawsuit was only for publicity, which fits with Gloria Allred's reputation. It also makes you wonder why they were so intent on keeping the story in the news.
It is also interesting that he says he's glad Boeheim won the defamation case when an appeal is still in process. Saying "He was just sticking up for Bernie" might kill any small chance that appeal had.
This whole situation continues to become a bigger circus at every turn.
Mike Lang's credibility
has been questioned in the past, as has his
fashion sense
. And this interview will cloud things even more.
Follow Nation of Orange on twitter
Like Nation of Orange on Facebook
Photo Credit: Andrew Burton/Getty Images