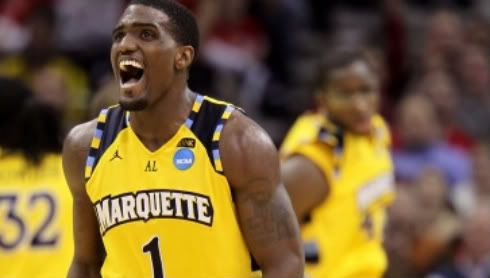 By Michael McAllister
What better way to get inside information about a team than to talk to someone who covers that team on a regular basis? Well, we got in touch with the Rubie Q from SB Nation's Marquette blog,
Anonymous Eagle
, to discuss this year's Golden Eagle squad. So we preview this big Marquette game a little differently than normal. Enjoy:
Nation of Orange:
How does this years Marquette team compare to the one that beat Syracuse in the tournament?
Anonymous Eagle:
In some ways, it's very similar: 60% of the starting lineup (DJO, Crowder, and Cadougan) remains intact, with DJO and Jae doing the heavy lifting on the scoring. But in a few important areas, it's very different. Jimmy Butler -- who took up residence in Scoop Jardine's drawers in the second half of that Tourney game -- is gone to the NBA. And, perhaps as importantly, MU is without its tallest player and the lynchpin of its defense with Chris Otule sidelined with a knee injury. But let's not talk about Big Chris' absence in too much detail yet, lest we lead the reader to believe that's all we're going to talk about.
(Reads rest of the questions)
I see that's all we're going to talk about. Very well.
Nation of Orange:
Talk about the team a little bit for those that don't know much about them. What are their strengths? Weaknesses? How do they play? Etc.
Anonymous Eagle:
Gotta divide it BC and AC: Before Chris (got hurt) and After Chris (got hurt). Before Otule got hurt, the team was playing at a level defensively that we hadn't seen in Buzz Williams' time on the bench: the guards could roam free for steals, MU was forcing turnovers like mad to fuel its transition offense, and Marquette was able to mask the fact that the front line has a single player over 6'9".
After Chris got hurt, the defense has ranged from spotty to abject disaster, with the crescendo in the game against Georgetown on Wednesday, when Marquette surrendered -- and what's coming up is NOT a typo -- an eFG% of ONE-HUNDRED PERCENT in the last 13 minutes of the game. Again: no misprint -- Georgetown was 13-15 from the floor, with 4 makes from deep, in the last 13 minutes. eFG% of 100%. Yeah. That's where we are right now.
Offensively, Marquette loves to get out in transition. In fact, that's virtually all MU did during the cupcake portion of the non-con schedule: run, and run, and then run a little more. The halfcourt offense, however, remains a work in progress. You'll get heavy doses of DJO and Crowder, of course, and the team will look at attack the rim (and hopefully get to the line) whenever possible.
Nation of Orange:
Johnson-Odom and Crowder are the names most people know about, who are some under the radar contributors the Orange should be worried about?
Anonymous Eagle:
I don't know about "worried about," but here's a couple guys to keep an eye on: Jamil Wilson, a 6'7" transfer from Oregon with the wingspan of a pterodactyl, has been pressed into duty in the post since Otule went down, and he'll probably be a focal point of Marquette's offense on Saturday, provided MU runs the same standard zone-buster we've seen under Buzz. Second is Todd Mayo, a freshman from West Virginia who's quickly claimed the role as MU's sixth man and third scorer. He's a threat from distance, capable on the drive, but he's got a cornerback's mentality with the ball, which is both good and bad: good because he's fearless and has a short memory, bad because he should have a little fear sometimes, like when he turned the rock over six times against Georgetown. Last is Davante Gardner, a nimble 300-pounder who always seems to find the basketball on the offensive glass. It's rarely pretty, and he sometimes looks like a sleepy grizzly bear trying to perform ballet moves, but he's effective, especially when he's used in short bursts.
Nation of Orange:
Marquette started off the season with 10 straight wins, but have slipped a little lately. In the Vandy game they really struggled. What's happened recently and more specifically in the Vandy game?
Anonymous Eagle:
I'm in Broken Record Territory, I know, but, in my mind, it's about Otule's injury. Without Chris patrolling the paint, the deficiencies on the defensive perimeter have been exposed and exploited: Cadougan can't stay in front of anyone, DJO is serviceable at best, and Mayo takes far too many gambles. And when the ball gets into the paint, Gardner and Jamil Wilson, despite their best efforts, just can't compete with guys who are three or four inches taller than them.
The Vandy game, in particular, was a microcosm of everything that's wrong with Buzz Williams' philosophy on defense. Buzz is obsessed with paint touches, and he insists on a double team every time the ball goes low. He'd rather the opponent take a shot from deep than close in, but against a team like Vandy -- which has shooters galore in addition to very capable big men -- that's a recipe for disaster. The boys ended up running around like headless chickens for much of that game as Vandy got open looks throughout.
Nation of Orange:
How does Marquette match up with Syracuse? Specifically inside where it appears the Orange have a size advantage.
Anonymous Eagle:
In a word? Horribly. I'm going to stop looking at your roster, because the sight of all those guys over 6'7" is making me nauseous.
Nation of Orange:
How do you expect the Golden Eagles to attack the Syracuse zone that has been so good this year?
Anonymous Eagle:
I dunno. Laughing gas? Grenades? Angry Birds?
Anyway, the typical zone offense MU employs involves running the offense through the 5 at the free throw line, the soft spot in the 2-3 zone. From there, Marquette will flank shooters to the corners, and if the boys are feeling comfortable from distance -- like they were in the first 27 minutes of the Georgetown game -- things could get a little interesting. If they're not, we'll probably dribble a lot and attempt a bunch of low-percentage shots in the waning moments of the shot clock.
Nation of Orange:
How big of a loss has Chris Otule been?
Anonymous Eagle:
So big that I've already spent 500 words telling you about it. And now I'm going to drop a hundred more.
Nation of Orange:
How has this team been replacing his production?
Anonymous Eagle:
They haven't. Yes, the guards have been rebounding more, and yes, Davante Gardner is twice the offensive player that Otule will ever be, but Big Chris was the perfect big man for this team. He doesn't need the ball, he made Buzz's suspect defensive philosophy work, he was big enough to box out two players by himself, and he picked up his bucket and went to work every day. Plus, his presence allowed Gardner to play 20 minutes per night, which maximized his efficiency. In the time since Otule went down, we've learned that Gardner's efficiency decreases exponentially when he's used for more than five minutes at a time, or more than 25 minutes in a game. He just can't go that long, but we don't have much of a choice sans Otule.
Nation of Orange:
What does Marquette have to do to beat Syracuse Saturday?
Anonymous Eagle:
Win the tip, get a 2-0 lead, then hope for a snow storm that caves in the roof of the Carrier Dome, a la the Metrodome a couple years back.
Listen: I'm a pessimist, by nature, but let's be honest about what happened in the tournament last year: Fab Melo was useless. Brandon Triche, arguably your most important player last year (at least against MU), busted his coccyx and had to miss most of the second half, and Scoop spent a good portion of the night Jardining all over himself. And Marquette still barely snuck by. What are the chances that kind of stuff happens again? Two percent?
But I'll look at the bright side: if Mayo and DJO and Crowder are on, and Scoop does Scoop things and Melo gets annoyed with Davante leaning on him all game and reverts into Fab Version 1.0, and C.J. Fair -- and by the way: where do you jerks keep finding guys like him? -- gets whooping cough, then I feel really good.
Nation of Orange:
How do you see the game playing out?
Anonymous Eagle:
Much like it did the last time Marquette visited the Carrier Dome: 'Cuse will overwhelm Marquette with its height and athleticism early, MU will throw a relative scare into the Orange at some point in the second half, but the outcome will never really be in doubt.
Unless that whooping cough thing catches on, of course.