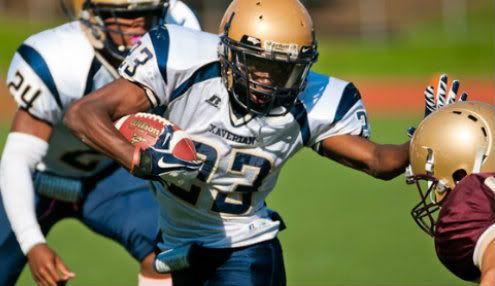 By Michael McAllister
Laray Smith is a running back out of New York City with blazing speed from the 2013 class. In fact, he told us he ran a 10.4 in the 100 meters recently, and believes he can run the 40 in under 4.3 seconds. But speed isn't the only weapon this versatile prospect has in his arsenal.
At 6'1", 175 pounds, Smith has ideal height and a frame to bulk up through a collegiate strength and conditioning program. In describing his game, Smith said, "I'm a versatile speed back. I can do multiple things on the field. I can go out as a wide receiver, run up the middle, take it to the outside. I'm really a speed back, but I look at myself as all-purpose."
But Smith isn't satisfied with his game as he continues to work to become even better. "I've been working on getting bigger, my hands, and a little bit of route running. That way I can be a bigger threat on the outside." That said, he has a lot of confidence in his abilities. "I'm pretty sure no one can hold me," Smith said, "because of my speed."
Because of his talent and speed, Smith has been receiving interest from a lot of schools across the country. Syracuse is one of the schools that stands out to him. "Syracuse is definitely one of my top schools," he explained. "Coach Anselmo, coach Marrone, and coach Wheatley, I love those guys. They're good role models and I speak to them a lot. We have a good relationship."
Coach Anselmo is the coach that Smith talks to the most and is his primary recruiter. He says they talk a lot, and when they do it is a long conversation. Smith says, "I can tell they really want me in their program. They send me a lot of letters. They tell me I can help them win the ACC championship and be a factor on their team."
Being from the New York City area, Smith already has established relationships with current Syracuse players and commits. He said he knows Brandon Reddish and Wayne Morgan, and played with incoming freshman Alvin Cornelius growing up. Those relationships could be a factor for Smith. "It would make me feel a lot more comfortable to play with people I've been playing with all my life," he said. "I would know going to the school that I wouldn't be a lonely kid. I would know kids. That's a big factor because I wouldn't mind going far to a school but I also want to feel comfortable. So if I was going to go to a school far away like Oregon or Tennessee, I would want to feel comfortable. Knowing Syracuse, I already feel comfortable and I haven't even been there knowing half the kids."
But the Orange are not the only school Smith has interest in. Said Smith, "UConn I have been speaking to a lot as well. And Oregon, I talk to them a lot too." While both UConn and Syracuse have offered, Oregon has not. But Smith thinks it's only a matter of time. "I think Oregon has a 90% change of offering," said Smith. There have been rumors that if Oregon offers, that will be Smith's school of choice. But the speedster says that is not necessarily the case. "I don't think that's accurate. I wouldn't say that," he explained. "Because I still have to take my visits also. So I wouldn't just do that." Smith says Syracuse, UConn, Oregon, and Tennessee are his top four right now.
While football is obviously important, that will not be the only factor in his decision. "I want to major in communications, but I also want to feel like the coaches don't just want me for my talent but want me as a student too and to graduate," said Smith.
The first of his visits will be coming soon, and it will be to Syracuse. Smith says he will be visiting the campus on Friday June 29th, and is planning to stay until Sunday July 1st. He plans to make his decision by the end of the summer.
Follow Nation of Orange on twitter
Like Nation of Orange on Facebook
Photo credit: volnation.com