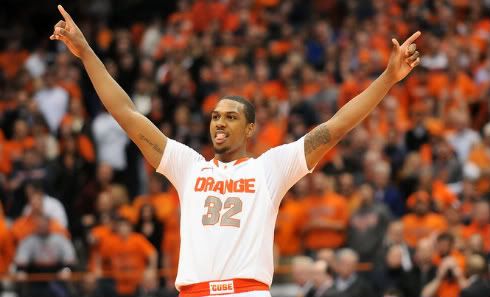 By Sean Fernandez
This is a big weekend for Kris Joseph. The former Syracuse star will be one of 44 NBA hopefuls participating in the annual
Nets' draft combine
. Joseph will take the court during session three, which will take place on Sunday, May 20th at 9:30am.
Other notable attendees are Marquette's Jae Crowder, Villanova's Maalik Wayns, and Pittsburgh's Ashton Gibbs. Joseph went head to head with these three throughout his four years on the hill, and the competition between these Big East rivals will continue for at least another weekend. Joseph is currently projected to be a second round pick in June's NBA draft. DraftExpress.com has him going 52nd overall to the Golden State Warriors in their latest mock draft.
Playing well at events like this is vitally important for players like K-Jo. A solid performance over the weekend can boost his draft stock. If, however, Joseph were to fall to the late second round, the host Brooklyn Nets have the 57th pick in the draft. They may be tempted to pull the trigger on someone like Joseph who participated in their combine.
UPDATE: The New York Post is reporting that Joseph has withdrawn from the combine. No reason was given for his withdrawal.
Follow Nation of Orange on twitter
Like Nation of Orange on Facebook