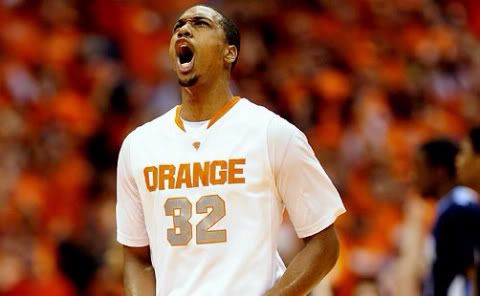 By Michael McAllister
The Wooden Award, award given for college basketball's best player, had its list trimmed down to 25 players. On that list, was Syracuse's Kris Joseph. The Orange senior is Syracuse's leading scorer, at 13.7 points per game. He's also averaging 4.6 rebounds per game, 1.8 assists per game, and 1.5 steals per game, all while shooting 43% from the floor, including 38% from beyond the arc.
ESPN's Andy Katz
said the following about Kris' chances to win the award: "No shot. Joseph is leading the Orange, but this team is so deep, so talented and so balanced that you would have a hard time picking just him. Dion Waiters may be Syracuse's MVP. A number of other players have taken turns being the star for the Orange, too."
The complete list is as follows:
Harrison Barnes (North Carolina)
Will Barton (Memphis)
William Buford (Ohio State)
Anthony Davis (Kentucky)
Marcus Denmon (Missouri)
Darymond Green (Michigan State)
John Henson (North Carolina)
John Jenkins (Vanderbilt)
Orlando Johnson (UCSB)
Darius Johnson-Odom (Marquette)
Kevin Jones (West Virginia)
Perry Jones III (Baylor)
Kris Joseph (Syracuse)
Michael Kidd-Gilchrist (Kentucky)
Jeremy Lamb (Connecticut)
Damian Lillard (Weber State)
Doug McDermott (Creighton)
Scott Machado (Iona)
Kendall Marshall (North Carolina)
Mike Moser (UNLV)
Arnett Moultrie (Mississippi State)
Thomas Robinson (Kansas)
Mike Scott (Virginia)
Jared Sullinger (Ohio State)
Cody Zeller (Indiana)