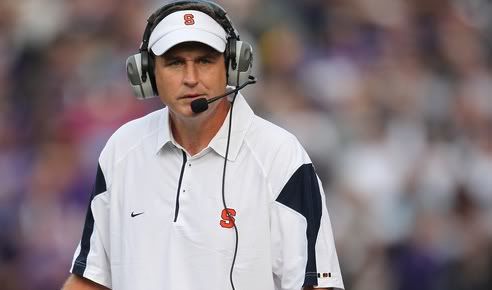 By Michael McAllister
Isaiah Johnson is a defensive tackle prospect out of Maryland who gave bus pledge to the Orange in recent weeks. Ironically, Johnson was a basketball player just over a year ago. He's only been playing organized football for a short time. Johnson told us the story of how he turned into a division one prospect.
"After the 2011 season I started attending flag training," said Johnson. "Some coaches were there, like West Virginia and Rutgers. The Rutgers coach told me I had great footwork and I should be on the field. I thought about, and coach DT and another coach, coach Irby, we're really in my ear telling me I'll be a great asset to the team. I started attending football meetings and suited up."
Despite only playing one season of high school football so far, he says his speed and length have helped him become a good football player. However, Johnson continues to work on his technique and strength.
To Johnson, Syracuse is a place that feels like home and where he connected with the coaches. Said Johnson on his commitment, "it's a great place. It isn't too far from home but not too close. I have family two hours away in Buffalo. The coaches really connected with me and my father, who is my superman. The staff at the camp was so great and the coaches have the techniques and tools I needed to be successful."
Johnson also took his first visit this weekend to the Syracuse campus. Said Johnson about the visit, "Man it was great. I loved the campus and the atmosphere. I just felt at home."
But Johnson knows hard work is ahead if he wants to achieve his goals. "I want to strive not to get a redshirt. I want to get a relationship with the team and that we're all brothers and real close," said Johnson. "I want to strive and work hard towards greatness. If I get the techniques down, I want to work hard to start."
Follow Nation of Orange on twitter
Like Nation of Orange on Facebook