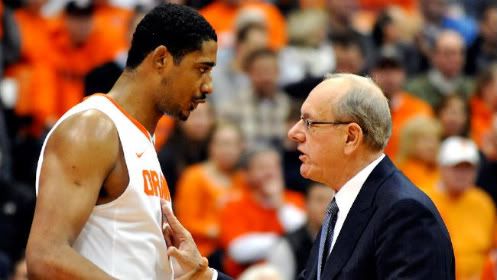 By Michael McAllister
Fab Melo was the second former Syracuse Orange selected in the NBA Draft on Thursday. After Dion Waiters was selected 4th by the Cleveland Cavaliers, Melo was selected by the Boston Celtics with the 22nd pick in the first round.
Fab joins a storied franchise with a history of strong bigs. Think about Bill Russell and Robert Parrish among others. Melo joins a Celtics team in transition. It is likely that Ray Allen will be gone, and there is a question about Kevin Garnett as well. However, Rajon Rondo and Paul Pierce will be there. The Celtics really like youngster Avery Bradley as a combo guard to compliment Rondo, and have no added size inside.
In addition to Fab Melo, the Celtics also selected Jared Sullinger who could start right away if Garnett does not return. At a minimum, it gives the Celtics a potentially talented front court for years to come. Sullinger is the more polished player who can contribute on both ends right away. Fab Melo, however, is still very raw offensively. And it is unknown how he will adjust to playing man against some of the better low post players in the NBA.
Melo does have good defensive instincts, possesses a lot of desirable skills, and could make an impact on a defensive minded team. However, the Boston faithful will have to be patient with the Brazilian big man who is still developing and learning the game of basketball. Questions are there about his attitude, mental makeup, basketball IQ, and offensive abilities. Will he ever develop those to become a contributor at the highest level?
Fab Melo is in the perfect situation to do just that. Doc Rivers is an exceptional coach who could mold Fab Melo into a very good player. Remember, Rondo was not thought to be nearly what he is now. Part of the credit for his development has to go to Rivers. Fab will be surrounded by a good mix of youth and veteran leadership. Expect him to take some time, but eventually become a solid starter in the NBA if he puts in the work. If he does not, he will not last long in the league.
Follow Nation of Orange on twitter
Like Nation of Orange on Facebook