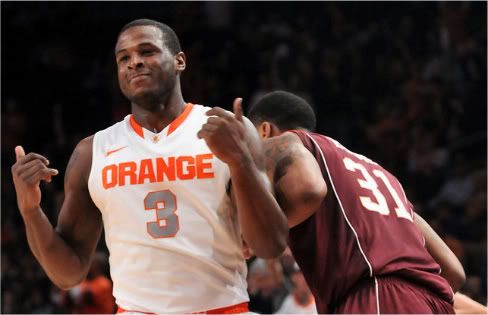 By Michael McAllister
Dion Waiters was selected fourth overall by the Cleveland Cavaliers in the 2012 NBA Draft. The selection completed his rise up draft charts, and surprised some. While some Cavs fans are questioning the pick due to Waiters not being a starter for the Orange, those questions will soon be silenced.
Waiters game is tailor made for the NBA. Many have suggested if there was a one on one tournament among the available guards in this year's NBA Draft, Waiters would win. He is electric in the open floor, can create his own shot, has a tremendously quick first step, and is a force attacking the rim. His defense will need some work as he adjusts to playing man to man against NBA guards. But his previously mentioned quick feet will help him minimize the learning curve.
Dion will join NBA Rookie Of The Year Kyrie Irving to form one of the more explosive and dynamic young backcourts in the league. The Cavs also made a move trading for Tyler Zeller, who should contribute right away inside. While the Cavs still have plenty of holes, the additions of Waiters and Zeller will serve them well going forward. It gives them a young, talented nucleus around which to build in the wake of the LeBron James departure.
Waiters slashing, attacking, and scoring abilities will mesh perfectly with Irving who has excellent court vision and is a good outside shooter. As Waiters continues to develop along with Irving and Zeller, the Cavs should have a trio that can get them back into playoff contention for years to come.
The Cavs starting lineup will likely feature Irving, Waiters, Omri Casspi, Anderson Varejao, and Zeller. They will look for young players like D.J. Kennedy, Tristan Thompson, and Samardo Samuels to develop as they improve the overall look of their squad. While the Cavs are still a long ways away, the selection of Waiters and trade for Zeller will help them get there.
Follow Nation of Orange on twitter
Like Nation of Orange on Facebook