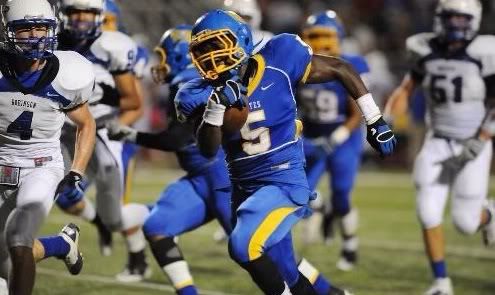 By Michael McAllister
Randy Gober is a 2013 RB from Texas who goes by the nickname "Rabbit." Syracuse has expressed interest in the running back who recently talked to us about his game, his recruitment, and where he got his nickname.
Nation of Orange:
Tell us about the type of running back you are.
Randy Gober:
I'm a downhill running back. I love contact. I never let the first defender tackle me. I have real good feet and it's really hard for me to go down. My 40 time is 4.51 and I bench 345lbs now. My weakness is my breakaway speed. But I'm working on that this summer.
Nation of Orange:
How has your recruiting gone? Who has offered and who has shown interest?
Randy Gober:
I don't have any offers right now. But this summer I'm going to pick one up from North Texas and Arkansas State.
Nation of Orange:
I read somewhere that you had a Syracuse offer. Is that not accurate?
Randy Gober:
A man named Tony Austin, he's a scout, said the Syracuse running backs coach was interest in me and wanted to offer, but didn't know when. I have always loved Syracuse!
Nation of Orange:
What about Syracuse do you like? Have you spoken to their coaches at all?
Randy Gober:
I just love the environment. I have looked it up on the internet and I fell in love. I think Syracuse would make me feel right at home. I haven't talked to any of the coaches, but scout Tony told me I will be hearing from them soon. They are on the road recruiting right now.
Nation of Orange:
Do you have a top 5 right now?
Randy Gober:
Yes. Arkansas, Baylor, Syracuse, TCU, and Oklahoma State.
Nation of Orange:
What will be the most important factor in your decision?
Randy Gober:
I want to go to a school where I can get a good education, and that has a good athletics program.
Nation of Orange:
How did you get your nickname "Rabbit?"
Randy Gober:
When I was little, I used to run track for team Waco. I was nine years old beating all the 13 and 14 year olds. My mom and track coach gave me that nickname. My mom passed away three years ago.
Nation of Orange:
What are your goals for your senior this upcoming season?
Randy Gober:
My goal is to win a state title. We were very close to last year. I also want to beat John Hubert's Waco rushing record. He broke LaDanian Tomlinson's record with 2,700 yards. I rushed for 1,700 yards my junior year. I could have had more but we played the #1 AAA Tyler Chapel Hill. They ended up winning the state title. We only lost by a touchdown.
Nation of Orange:
Tell us about yourself off the field. What do you like to do for fun, and what kind of music do you listen to?
Randy Gober:
I'm a cool kid. I'm an A and B student, and very outgoing. I love to meet new people. I help out my coach with special ed class. I'm a student athlete who gets my work done. I love the Dallas Cowboys and New York Jets. I like to listen to Ray Charles. I love old music.
Follow Nation of Orange on twitter
Like Nation of Orange on Facebook
Photo credit: Randy Gober's Facebook Page