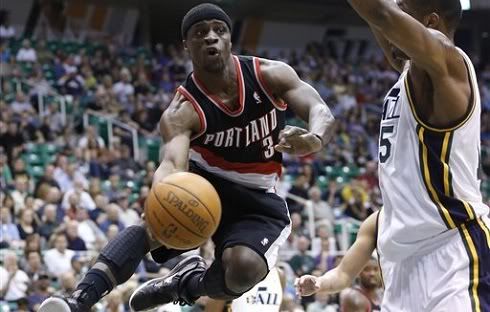 By Michael McAllister
Jonny Flynn and Darryl "Mookie" Watkins have not had the kind of NBA careers they had hoped. Flynn was a top 10 pick of the Timberwolved, but didn't live up to expectations there and is now on his third team in the last two seasons. Watkins has spent most of his career in the Developmental League. However, both have performed better of late.
Watkins signed a 10 day contract with the New Orleans Hornets to close out the season, and had a 13 rebounds, two block performance right away. On Thursday, Watkins was given extended minutes (42 to be exact), and had the best performance of his career. The former Syracuse big man finished with 13 points on 3-6 shooting, 10 rebounds, 3 steals, and 1 block.
Jonny Flynn has been given more consistent minutes with the Portland Trail Blazers since coming over from Houston. He's averaged over 22 minutes per game over the last six contests. During that span span, he's averaged 9 points, and 6 assists per game. In the most minutes (34) he's seen all year on Thursday, Flynn scored 18 points, dished out 11 assists, and grabbed 5 rebounds.
Both have made a case to be contributors next season. It's unclear whether both will be back with the same team, or whether they will be in new homes when the 2012-13 season starts.