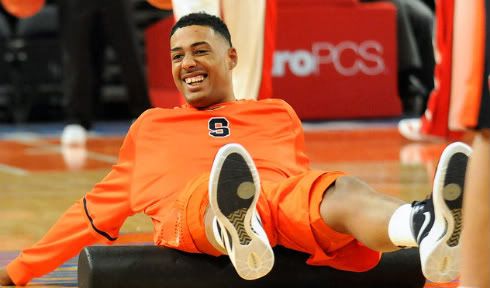 By Michael McAllister
The Orange picked up right where they left off before Fab's absence, dominating St. John's 95-70 in Madison Square Garden. St. John's got out to an early 7-2 lead, as the Orange struggled offensively, similarly to how they've struggled in recent games. But the Orange responded with a 10-0 run, and never looked back. Syracuse took a 41-27 lead into halftime, as they held yet another opponent under 30 points in the first half.
Fab Melo, Dion Waiters, and C.J. Fair each scored 14 points for the Orange. Melo added three rebounds and two blocks in his return to the lineup. Fab had missed the previous three games due to an academic issue. His return to the lineup seemed to energize the Orange, as they got out in transition, played great defense, and rebounded very well. The whole team seemed to play with a swagger that had been missing in his absence.
Waiters added four rebounds, four assists, one steal, and two highlight reel plays to his scoring total. Both plays came in the second half. On a one-on-one in transition, Waiters spun around the defender for a layup. It was a spectacular move that got the entire Syracuse bench on their feet. Later in the game, Waiters got the ball in the open floor and threw down a thunderous dunk. The confidence he plays with is unbelievable.
C.J. Fair had another solid game, where his 14 points were about as quiet as they can possibly be. He added three rebounds and three assists to his total. Kris Joseph had a very good all-around game. While his three-point shot still wasn't falling, he scored 13 points, added eight rebounds (six offensive), and dished out four assists. Michael Carter-Williams had his best performance in an Orange uniform. He tallied 13 points on 5-6 shooting (3-4 from beyond the arc), and had three assists. As good as Waiters dunks were, MCW may have had the dunk of the night. He threw one down over God'sgift Achiuwa that will surely be in the SportsCenter Top 10 tomorrow. It was an unbelievable dunk.
Brandon Triche and Scoop Jardine were both quiet. Scoop had just seven points, and did not have an assist. Triche had just four points on 1-6 shooting (including 0-4 from deep), but did have a team-high five assists. Rakeem Christmas had four points and seven rebounds.
D'Angelo Harrison led St. John's with 23 points, including 5-9 from three. He added five assists and four rebounds. Moe Harkless ended up with 15 points and eight rebounds, but was pretty quiet on the afternoon. Phil Greene added 14 points for the Red Storm.
The Orange shot just under 56% from the floor, and held St. John's to 40% shooting. Syracuse dominated the glass, out-rebounding the Red Storm 38-25. The Orange also had 14 offensive rebounds. The turnover battle was even, as both teams committed only eleven. St. John's shot twice as many free-throws as Syracuse, 28-14.
It was a welcome site for Orange fans as Fab Melo returned to the floor. He was back to his old self blocking shots, taking charges, and dunking with authority. His presence in the zone took away the inside which had been so vulnerable in the previous three games. While he only had three rebounds, his presence inside and blocking out ability allowed others to crash the boards more effectively.
Jim Boeheim talked about the win after the game. "Our ball movement was good the whole game. I thought we got it to people. Our bench was very good again. Michael got his first two real good looks and he hit them. It's a good win. I've been impressed with how well St. John's has played with so many young guys. It's difficult to do that, and I think they've done very good. I think Harrison if you leave him open, we did a good job on him until late, but if you leave him open he's going to make it. It's a good win, and now we'll go home."
Boeheim on Fab Melo: "I thought Fab was good. Anytime you miss a few games it's tough to come back. But I thought he was good."
Boeheim on Joseph: "I thought Kris was as active as he's been all year. He was good on the boards, got a couple offensive rebound baskets."
With the win, the Orange move to 23-1 overall, and 10-1 in conference play. Jim Boeheim tied Dean Smith for third all-time with 879 wins. He also tied Smith for most wins all-time at one school. Syracuse next welcomes Georgetown to the Dome on Wednesday for a 7pm tip.
News and notes from the game:
The Syracuse bench scored more points than the starters (53 vs 42)
The Orange set a season high with 23 assists
This was the 9th win by more than 20 points this season
Kris Joseph led the team in rebounding for the 9th time this season
Michael Carter-Williams and Fab Melo both set career-highs in scoring
No one played over 30 minutes in the game, and 9 players played more than 10 minutes