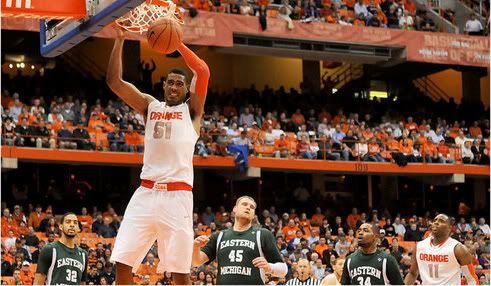 By Michael McAllister
When Fab Melo was ruled out for the NCAA Tournament, few gave the Orange a chance to make the final four, let alone win the title. His absence left a huge hole in the middle of the zone. After all, he was the Big East defensive player of the year.
ESPN decided to take a look
at some "what ifs" from the tournament to see how things could have played out differently. One of those "what ifs" was "What if Fab Melo had been eligible?" Here's what they said:
The Orange were not without their flaws throughout 2012, but there's no mistaking how very good they were throughout the season -- with swat-happy center Fab Melo patrolling the paint, they weren't just the nation's deepest team. They were also one of its best. But when Syracuse needed its big man more than ever -- the NCAA tournament -- his academic standing rendered him ineligible, and left his teammates to chase a national title without him.

It didn't go quite as planned. Syracuse still made a quality run to the Elite Eight, where it eventually fell to a very good Ohio State team; there's no shame in that. But what if Melo had been around to challenge OSU forward Jared Sullinger in the paint? Would Sullinger have dislocated the Orange interior so easily and effectively? Would Syracuse have progressed to take on an occasionally turnover prone and always interior-oriented Kansas team, one that may well have struggled with Jim Boeheim's patented 2-3 zone?

(Oh, and speaking of which, what if the refs hadn't made that East Regional final more about them and less than about the players on the court? This probably deserves its own subsection, but we'll leave it alone, at least for now.)
Valid points all around. Remember, Sullinger was 5/9 shooting and scored 19 points against the Orange in the Elite 8. Against Kansas and 7-footer Jeff Withey, he was 5/19 shooting with only 13 points. It's reasonable to conclude Fab Melo could have had a similar effect. Sullinger struggled against bigger, taller players. Melo was all of that and more. He was probably the only player on the Syracuse roster who was as strong as, or stronger, than Sullinger. Not to mention, he was so good at taking charges, a couple of those could've changed momentum as well. Now that's not to say Syracuse definitely wins with Fab Melo, but let's be honest. They were one of the top two teams in the country all year with him. Syracuse was better with Fab Melo anchoring the zone. That said, he probably would've been called for three fouls during the opening tip, so it may not have mattered.