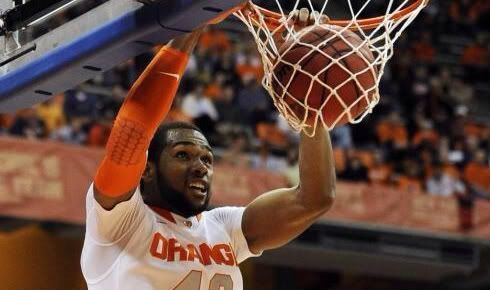 Michael McAllister
Last year, many Syracuse fans were clamoring for James Southerland to get more playing time. Coach Boeheim had other ideas, calling him out on a few occassions for his lack of rebounding and defense. True, he showed athletic ability and a sweet, although inconsistent, stroke from beyond the arc. But it was the other facets of his game that were severely lacking.
Coming into the season, most assumed Southerland would get lost in the shuffle of a deep and talented team. After all, he was behind Joseph, Fair, and Christmas at the forward positions, and he didn't rebound well enough to play the four. This site even stated in our Small Forward position preview that he didn't deserve minutes outside of throwing him in for five minutes or so to see if he could catch fire. Boy was that off base.
Yes it's only Fordham and Manhattan. But the amount of minutes he's played, and when he's played them, is telling. It shows Boeheim has trust and confidence in him. Southerland's game is no longer relegated to strictly a spot up shooter. He's been good on the boards, averaging five per game in just under 20 minutes per game. He also has two blocks and two steals on the young season. You can see the improvement in his defense footwork, knowledge of his assigments, and physicality on the glass. Not only that, he's also averaging three assists per game, to go along with 11 points.
Is it likely he will continue shooting over 61% from the floor and and 60% from three? Most likely not. Those are ridiculous numbers for a jump shooter. But he has shown other facits of his offensive game this year. He's driven to the hoop on occasion, and even showed a pull up jumper. He even added a put back dunk off an offensive rebound. This is the same James Southerland who, last year, had several games with one or fewer rebounds. The same James Southerland that only shot 43% from the field, and under 37% from three.
James' attitude has changed as well. He's kind of the comic relief among the Orange, but has a tendency to be his harshest critic. This year, that's changed. "It's not getting down when I miss a shot. Not getting down when I don't play a lot," he said. "Just being ready – calm, prepared, not over-hyped. When you stay focused, everything comes into place." Kris Joseph has noticed saying, "he's locked in."
The improvement in his game is undeniable. And he's being rewarded with consistent minutes so far. The season is very young, but if he continues to rebound well, and defend, he will continue to get minutes even when his shot cools off. Clearly Boeheim has seen the improvement, saying after the Manhattan game, "James has been really good. He was really good tonight. He moved to the right places. I thought he did a good job." His potential has been something often debated among Orange fans. It looks like his proponents may be right afterall.
Note: Quotes from Syracuse.com article:
Southerland Shines in Win Over Manhattan