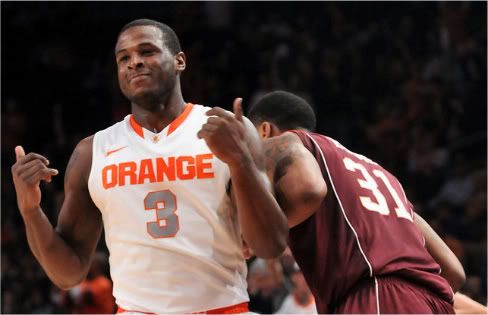 By Michael McAllister
The Orange are the number one team in the country through ten games, a little more than a quarter of the season. Let's look at how the team has fared by handing out some awards from the early part of the season.
Best Freshman
Michael Carter-Williams. He has shown the kind of all-around game that had Boeheim singing his praises before the season. His shot still needs work, only shooting 28% from the field, but the rest of his game is very polished for a freshman. He's tied for second on the team with over 3 assists per game, and is averaging 3 points, 2 rebounds, and 1 steal per game in only 13 minutes. Projected out to 30 minutes of playing time that's 7 points, 7 assists, 5 rebounds, and 2 steals per game. Carter-Williams is going to flat out be a stud for Syracuse in the coming years.
Best Defensive Player
Fab Melo. He's been exceptional inside. He's blocking 2.6 shots per game while also getting nearly 1 steal per game. His footwork and understanding of the zone has been fantastic. Melo was vital in the Florida game, shutting down Patric Young. He's been borderline dominant at times, making it very difficult for opponents to score consistently inside. His big frame, long arms, and athleticism are a nightmare for opponents. Maybe even more impressive, has been his ability to draw charges. It seems like he gets one or two per game. Fab has been great this year.
Best Offensive Player
Kris Joseph. He's the team's leading scorer at nearly 14 points per game, and is shooting over 38% from three point range. Joseph has shown the ability to drive, hit an NBA-ready step back jumper, and spot up from the outside. His all-around offensive game and skill set make him a first round NBA draft pick. He's also second on the team in free-throw percentage, at just under 76%.
Most Improved Player
Fab Melo. It's unbelievable the improvement he's made from last year. In more than double the minutes, he's averaging triple the points, more than double the rebounds. and triple the blocks per game. Underrated however, is the improvement in his mental game. Last year, he lunged at defenders and drew quick fouls. This year, he's patient, aggressive when the time is right, and has a knack for drawing charges. He doesn't force things offensively, and lets the game come to him. His rebounding can still improve, but he's by far and away the most improved player from last year.
Most Valuable Player
Dion Waiters. Dion is the team's second leading scorer, second in assists, and leads the team in steals. He's also shooting 50% from the field. His abilities on the defensive end have been just as important as his offensive abilities. We all know about his thunderous dunks, and amazing ability to drive and finish. But the improvement he's made as a defensive player has been critical. He forces turnovers, prevents penetration, and makes opposing team's guards miserable. Without him, this team probably has at least two losses.
Token Starter Award
Rakeem Christmas. This award was derived from Fab Melo last year, who would start every game but only play a couple minutes early. You wouldn't see him, most of the time, for the rest of the game. This year, so far, that player has been Rakeem Christmas. Now it's not as bad as Fab was last year overall, but in the critical games it has been. In the Virginia Tech, Stanford, and Florida games, he logged a combined nine minutes.
Best Garbage Time Player
Mookie Jones. No one gets the reaction Mookie does when he comes into the game. True Mookie is shooting under 19% from the field, and only 21% from three-point range. True he's only played in five games, but he's the guy that everyone wants to launch shot after shot when he comes in. It's fun. He's the fan's guy. And he seems to have embraced that roll.
Cupcake Superstar Award
James Southerland. He has the propensity to disappear in big games, but against the inferior teams, he's a stud. Against Virginia Tech, Stanford, and Florida, he scored a total of zero points on 0-6 shooting (all three point attempts). Against everyone else, he's averaging over 12 points, 3.5 rebounds, 2 steals, and 1 block per game while shooting over 61% from the floor and 52% from beyond the arc.