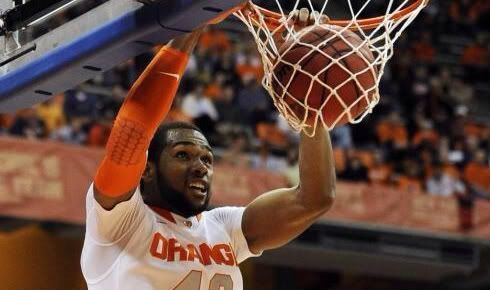 By Michael McAllister
James Southerland has been a bit of an enigma for Orange fans over the last couple years. Many saw his potential, and ogled at his shooting ability. However, he wasn't consistently seeing the floor. In most bigger games, he was only getting playing time in blowouts or due to foul trouble or injuries.
Now, Southerland is a key member of the #1 team in the country. He plays in every game. His early season contributions were a bit of a shock to Cuse fans, as many projected he would fill a similar role as in years past. However, he came out guns blazing early on. He seemed to make every shot he took, and even led the Orange in scoring on more than one occasion. The deeper we've gotten into the season, the more used to Southerland being a prominent part of the rotation Syracuse fans have become. He's shooting nearly 56% from the field and over 42% from beyond the arc. Both significant improvements from last year. But the key to his ability to stay on the court actually has little to do with his tremendous shooting ability.
Yes Southerland is the best three point shooter in the team. And yes he's made some big shots for the Orange this year. But Jim Boeheim has shown a lot of trust in Southerland. The reason is the development in the rest of his game. Last season, after a few games where Southerland struggled rebounding, and Boeheim ripped him for it. His playing time subsequently plummeted. After Syracuse beat UConn last year, Boeheim said, "He only played when Kris didn't play at Pittsburgh. He had a great opportunity. In three games, he had one rebound. He played his way out. There's no mystery.'' That has changed this year.
Southerland's minutes are only up about two per game, but he hasn't missed any games. Last year he didn't even play in several of them, and logged only a minute or two in others. His rebounds are up by more than one per game. He's scoring nearly four more points per game, his steals per game have more than doubled, and his blocks per game are up as well. These results are due to the development of his all around game in the offseason.
Watch him on defense. His knowledge of the zone is infinitely better. His rotations are crisp, he's rarely out of position, and he anticipates better. Take some time to watch him during Syracuse's next game. Watch him rotate in the zone and you'll see his footwork is much improved. In only 16 minutes per game, he's averaging over one steal per game, and nearly one block per game. His long arms deflect passes, close passing lanes, and harass defenders. Southerland has also been a key to the press when Syracuse has chosen to utilize that. His quick feet and athleticism have created turnovers and led to easy baskets.
Along the same lines, he's averaging over three rebounds per game. His positioning attacking the glass is much improved. He's no longer getting rebounds only when the ball finds him. He's blocking out opposing players and anticipating rebounds very well. His footwork has been very good, and his abilities on the offensive glass have been there as well. In addition to just the raw numbers, he's helped keep balls alive by deflecting rebounds and allowed others to get rebounds by blocking out other players.
It's because of these improvements that Boeheim has trust in Southerland. Even when his shot isn't falling, he's still playing significant minutes and contributing. Take the game against Florida as an example. He was 0-3 shooting, but still logged 11 minutes, grabbed three rebounds, had a steal and a block. Or the Marshall game where he was only 1-3 shooting, but still logged 18 minutes. In those minutes he had two rebounds, two steals, and three blocks.
On a lot of teams in the country, Southerland would be starting. Especially given the improvements he's made to his defensive abilities. On Syracuse, he's the seventh or eighth guy in the rotation. Yet he hasn't complained once about playing time. He's the Orange's best shooter, and arguably their most athletic player. His contributions will be important going forward, just as they have been thus far.