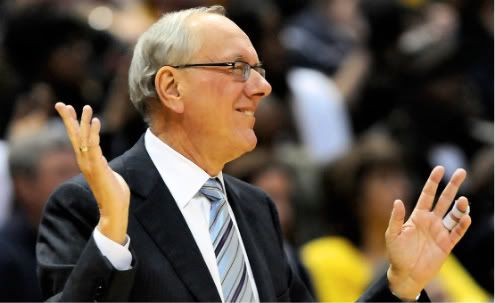 By Michael McAllister
John O'Brien from Syracuse.com
has reported that Judge Brian DeJoseph has dismissed the defamation suit brought against Jim Boeheim by Bobby Davis and Mike Lang. According to DeJoseph's decision:
The content, tone, and purpose of Boeheim's statements would clearly signal to the reasonable reader that what was being read in the articles published in days after the initial ESPN report were likely to be an opinion - a biased, passionate, and defensive point of view of a basketball coach - rather than objective fact.
Davis and Lang had argued that Boeheim's calling them liars and stating they were out for money was harmful to them in multiple ways. Gloria Allred has stated they will appeal the decision. She released a statement saying:
When Bobby Davis came forward years ago and complained about sexual abuse he was ignored. When the allegations were made public he was attacked. It is difficult enough for victims of childhood sexual abuse to come forward. This decision sends the message that you can attack the alleged victim and call him a liar with impunity. It makes it even harder for victims to come forward. We will file an appeal and continue to fight.
Kevin Quinn, Senior Vice President at Syracuse University also released a statement, albeit much more brief. He said simply, "We have had an opportunity to review the legal papers. We are gratified by the Court's decision dismissing this lawsuit."
Jim Boeheim and Syracuse University have won every step of the way in this case. They had the location of the suit relocated from New York City to Syracuse, had the issue regarding Laurie Fine and any relationships with players thrown out as irrelevant to the case, and have now had the case thrown out.
You can view the entire Judge's decision
here
.