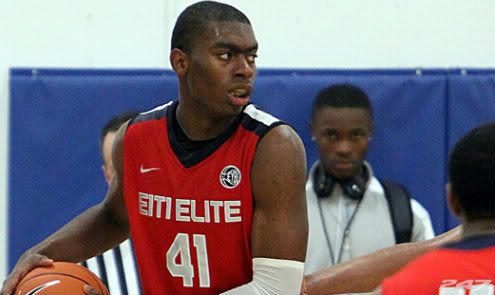 By Michael McAllister
Dakari Johnson is a center prospect out of Florida. Originally from New York City, Johnson moved to Florida and therefore sat out this past season. He is considered an elite prospect, however, and the interest level in him has proven that. He says Syracuse, Georgetown, Kentucky, Florida, Florida State, Stanford, Kansas, Ohio State, and Louisville have all shown interest. In fact, they are all calling him on a regular basis.
It's easy to see why. During the Nike EYBL tournament this spring/summer, Johnson has averaged 16 points, 11 rebounds, and 2 blocks per game while shooting over 55% from the floor. Johnson describes his game as, "a true five. My strength is around the basket. A lot of short face up jumpers and rebounding." Thought he knows his game is not perfect, despite being an elite prospect. "My weaknesses are my lateral quickness," he says. "I have to get better at that."
Still, Johnson is a player that can come into any program across the country and make an immediate impact as a freshman. That includes Syracuse. Assistant coach Adrian Autry and coach Boeheim himself are in frequent communication with the 6'10" big man. "They tell me how I would fit in the zone," says Johnson. "Also, how great of a school Syracuse is." He also has thinks very highly of the Orange program. "It's a good program overall," he stated. "They always have a good team that competes in the tournament. So I think it's a great program."
Being in the class of 2014 means Dakari has plenty of time to make his decision. Still, he said he is going to be creating a top ten after the summer. After his top ten is established, he plans on taking some visits to the schools included in his list. What factors will be helping him create his list and, ultimately, his final decision? "Just what's the best fit for me and my family," Johnson explained. "Where we think I fit best."
Follow Nation of Orange on twitter
Like Nation of Orange on Facebook
Photo credit: 247sports.com