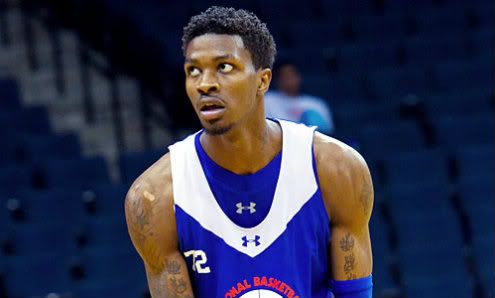 AK Murthy
2013 Chris Walker was one of many of the top post players in the country at the Nike Amare Stoudemire Skills Academy in Chicago, Illinois. Nation of Orange talked to Walker about the camp and his relationship with Syracuse.
"It was fun here, it was my first time," Walker told Nation of Orange. "It was good to be out here competing and working out with Amare Stoudemire and playing with the point guards too. It was cool to meet Amare."
"There's a lot of good talent here and I try to put the work in and go as hard as I can," he added.
With many of the nation's best programs pursuing him, Walker's recruitment is a hotly contested one.
"Recently I've been hearing from Florida, Kentucky, Kansas, Ohio St, Louisville. I haven't heard from Syracuse in a little while," Walker said.
"I'm still interested in Syracuse though," he said. "It's a great program and a great staff and I'll just have to see when I cut my list down."
Follow Nation of Orange on twitter
Like Nation of Orange on Facebook