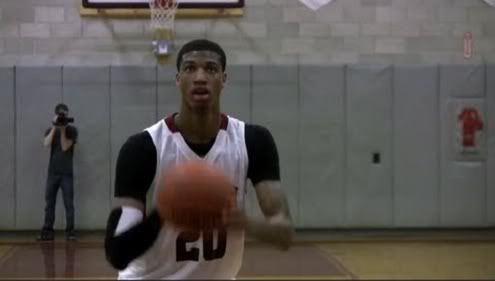 By Michael McAllister
2014 forward Chris McCullough is one of the best players in his class regardless of position. Currently, he's not doing any interviews. However, we were able to catch up with his AAU coach, Munch Williams from Team Scan, to get an update on McCullough.
Coach Williams told us that Chris has been playing great this summer. He's helped Team Scan to be the #1 ranked 16U team in the country. Chris has averaged a double-double with 4 blocks and 4 steals per game.
Williams also said Kansas and Memphis are his most recent offers, and he has about 20 overall. McCullough is planning to cut his list in August to six teams, according to his coach. After his list is cut, he will be taking some visits. No dates have been planned for the visits yet, however. Coach Williams said McCullough will take his visits based on "the love he gets from schools in July."
We asked who's been recruiting McCullough the hardest. Williams said, "Everyone at this point is equal, but I would say the hardest are Syracuse, St John's, West Virginia, Villanova, Kansas, and Iowa State."
Isn't it interesting that he will cut his list to six, and his coach lists six schools recruiting him the hardest. Derive from that what you will.
McCullough is likely a power-forward at the college level. But what makes him elite is his shooting ability at his size. He has a great mid-range jumper, and is a solid three-point shooter. McCullough also plays well in the post with his back to the basket, runs the floor well, and is an outstanding defender.
Follow Nation of Orange on twitter
Like Nation of Orange on Facebook