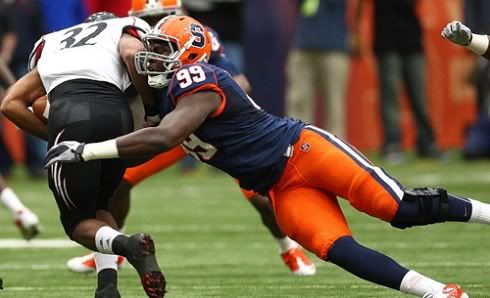 By Michael McAllister
Most mock drafts had Chandler Jones going in the top 15. Seattle was a popular choice, as was Philadelphia. As fate would have it, those two teams swapped picks. When the Eagles moved up, it was unlikely they were doing so to take Jones. And so they selected Fletcher Cox, the defensive tackle from Mississippi State. With Seattle at the 15th pick and defensive end being a huge need, Chandler Jones made sense. However, the Seahawks shocked everyone by taking Bruce Irvin out of West Virginia. Jones was growing impatient, even having Z89 Sports (who was at his home, covering his reaction) tweet out, "I just want this to be over with."
It's an incredibly emotional, mentally draining experience, I'm sure. But then came the 21st pick, and the Bengals trading out of that pick with the New England Patriots. Arguably the premier franchise in the league right now moved up to take the Syracuse defensive end. ESPN showed highlights of Jones' production. Mel Kiper even let out a bomb when he said during the broadcast, "If Chandler Jones had played in every game last season he would have been a top 10 pick." The Patriots got themselves a player with a ton of upside, and a great guy as well.
Jones was not only drafted by a team that will be one of the favorites to win the Super Bowl next season, but he may have landed in a spot that is the best fit for both him and the team. The Patriots were 31st in the league in yards given up per game, and 14th in the league in sacks. They were also 17th in the league in rushing yards allowed and gave up the eighth most yards per carry. New England's defense was terrible, and was a big reason why they lost the Super Bowl. Chandler Jones can make a big impact right away to help solve some of those problems.
As much talk as Jones gets about his pass rushing ability, his run defense is very underrated. He has the ability to crash inside to stop short yardage plays. He frequently gets into the backfield to disrupt ball carrier's vision. Jones also has the speed and quickness to get to the outside on stretch plays. Combine that with his athleticism and pass rushing skills, and you can see why the Patriots moved up to grab him.
Bill Belicheck loves versatility, and that's exactly what he got with Jones. He can play defensive end or outside linebacker when the Patriots line up in their base 3-4 package. But when they switch to a 4-3 set-up, Jones can also stay at defensive end or move inside to rush the passer from the tackle spot. His skill set will allow Belicheck to move him all over the field and create mismatches. Chandler Jones should have a very productive season for the Patriots.
This was the first time a Syracuse player was selected in the first round since Dwight Freeney was drafted by the Colts in 2002. The exposure and ability for Doug Marrone to say, "we had a first round draft pick" will only help his recruiting efforts. On this night, Syracuse had more first round draft picks than Miami, Florida, Oklahoma, Texas, Penn State, Michigan, Ohio State, and Florida State. This was a good thing all around. For Chandler Jones, the New England Patriots, and Syracuse football.