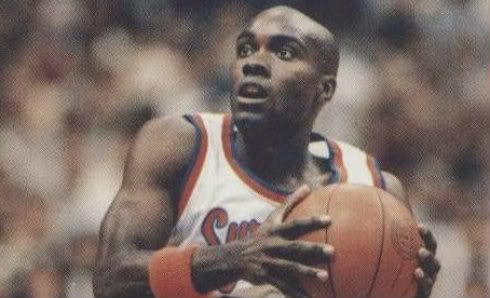 By Michael McAllister
Many Syracuse fans will remember the high flying dunks of Stevie Thompson. He was part of some great rivalry games with the Georgetown Hoyas in the late 1980's, played in the 1987 NCAA championship game, and thrilled Orange fans with his incredible athleticism. During his career at Syracuse, he averaged nearly 14 points and over 4 rebounds per game while shooting over 56% from the floor. His best season was as a junior, when he averaged 18 points and 5 rebounds, while shooting nearly 64% from the floor. Thompson spoke with Nation of Orange to get caught up on life, his thoughts on college basketball, and his son's recruitment.
Nation of Orange:
Letís start by catching us up on what youíre up to nowadays?
Stevie Thompson:
Iím coaching now. Iím the head basketball coach at Cal State University at Los Angeles. I just finished my 10th season. I was an assistant for three years, so I just finished my 7th season as a head coach. Thatís what Iíve been doing lately. After I left Syracuse I did play 11 years of professional ball. I had a couple stints in the NBA for a couple years, and then played about 9 years overseas.
Nation of Orange:
There have been a lot of changes to college basketball in recent years, specifically with conference realignment. What was your reaction when you found out Syracuse was moving from the Big East to the ACC?
Stevie Thompson:
When I first got the news about it, it didnít sound right to me. I just envisioned our institution as a Big East powerhouse. Itíll take some getting used to to call us an ACC school. If it helps out our school, if it helps out our program to move to the ACC, and I donít know all the ins and outs of why the decision was made. But if it benefits Syracuse athletics and our basketball program then I guess Iím on board.
Nation of Orange:
What are your thoughts on the one and done rule, and whether players should be allowed to go the NBA straight from high school?
Stevie Thompson:
My initial thoughts are that one year is not a lot of time. If they are good enough to go pro and the pros want to take them out of high school that still should be their option. Having kids now go to school for one year, it works for some programs and it doesnít for others. The overall landscape of college basketball, it depends on what school you are and how youíve been able to adapt to the rule. Overall though, just having the kids for just one year is not necessarily a good thing. So I donít really favor the rule.
Nation of Orange:
What were some of your best memories from your time playing at Syracuse?
Stevie Thompson:
I just loved the competitiveness of the conference. Our conference at that time, and probably still now, was the best in college basketball. And coming in year in and year out and competing at that level just brings back great memories. I miss those days for sure. It was just a good time in my life. Getting up for those rivalries against Georgetown and St Johnís and Connecticut back in those days. Then having the opportunity to play in that championship game as a freshman was unbelievable. A game that I still think about every time I see the Final Four when it comes around that time of the year. Itís a game we had won. We couldíve won that game. So, it just brings back great memories.
Nation of Orange:
How much are you able to keep in touch with Coach Boeheim and some of your old teammates? And do you still follow the program today?
Stevie Thompson:
As much as I can. Our program is fortunate. Coach Boeheim and the Orange have invited us up there four of the last five years to play them in an exhibition game. Thatís been really great for our program at Cal State Ė LA. But it also gives me a chance to reconnect with coach Boeheim and coach Hopkins and all the guys around. From time to time Iím still able to communicate with Derrick Coleman and Billy Owens. I really havenít talked to Sherman or Rony or those guys much. Some of those guys I am able to communicate with. But it still plays a big part in my life, the Orange and the people involved with the program. Itís still a meaningful part of my life.
Nation of Orange:
What was your reaction when Syracuse won the championship in 2003?
Stevie Thompson:
I think I was at home watching the game. I was watching it with my family. Every two seconds I was letting my family know Ďhey, this is where we played the championship game back in Ď87.í It brought back memories of that. Coach Boeheim is not only a mentor, a role model, but being a coach the respect I have for him is greater now. Understanding what it takes to be a coach and at the level heís doing it for the amount of years heís doing it. Getting that championship just really stamped the whole body of work for him in my eyes. It put him up there as one of the top to ever do it in college basketball. With his continued success itís been great. But getting that championship really let everybody know that weíre one of the powerhouses in the history of college basketball.
Nation of Orange:
Moving on to your son. Tell us about what type of kid he is, the type of player he is, and if he can play on the division 1 level.
Stevie Thompson:
Being a dad and also being a coach, I think heís a really fundamentally sound player. Heís highly skilled in terms of all the shooting, the ball handling. One thing he has is a high basketball IQ. He understands the game really well. I believe if he continues to work, if he continues to grow, I believe if he stays healthy the future is unlimited for him. Heís a passionate kid. Basketball is not something I forced on him. He wanted basketball. From an early age, heís always been in the gym as a little baby when I was playing overseas in Japan. He was born during those years. Heís always been in a gym and always wanted it. Him and my younger son. I have a younger son as well, a 7th grader. Iíve always tried to get them interested in other sports, like baseball and football. But they love basketball and itís a passion of theirs. I just think if he continues to work, he has a bright future ahead of him.
Nation of Orange:
Talk about his recruitment, what schools are showing interest, and if youíve any discussions with coach Boehiem about your son.
Stevie Thompson:
Heís had several schools express interest. A lot of the PAC-12 schools have shown interest in him. In terms of talking to Boeheim, when I see him during the exhibition game I always talk to him about my son and his development. But in terms of formal letters, we havenít received anything yet. I believe they know heís on the radar and theyíre tracking his development.
Nation of Orange:
Are you going to do any swaying of your son towards Syracuse? Maybe push him in that direction?
Stevie Thompson:
All the time. I tell both of them, if you get an offer from them thatís where youíre going. Iím the biggest recruiter of Syracuse for them. Not just because I went there, but because of the experience I had there. How it helped develop my life. And if Boeheim is still coaching at that time, I would love for them to play for Boeheim.
Nation of Orange:
Hereís the most difficult question Iím going to ask you. Your son is currently a freshman in high school. Go back to when you were a freshman in high school. Your son now plays you back then in a game of one-on-one. Who wins?
Stevie Thompson:
Itíll be difficult to answer that! My son now as a 9th grader, in terms of skill, I believe that heís more skilled than I was. In terms of shooting, ball handling, dribbling, shooting, all of these things. I believe his athleticism is just catching up to that skill. When I was younger as a 9th grader, I was probably more athletic. I donít know which would win out. Would his skill win out or my athleticism win out? I donít know. The competitor in me says me, but the dad in me says my son would probably get me!
Nation of Orange:
When I spoke with coach Small a couple weeks ago, he said Stevie was a 4.0 student. Talk about the importance youíve placed on academics in your sonís life.
Stevie Thompson:
That comes first. With me and my wife, we both come from families that have stressed academics and their importance. With him itís the same thing. Right now heís maintaining high school and a 4.0 GPA. In his graduating 8th grade class, I canít remember whether he was the valedictorian or the salutatorian, but he was one of the two. Academics are a first. I believe a good balance of both academics and athletics will help him in college. These guys schedules are a lot different than when I was his age. Thereís more tournaments, more games, more workouts, more things to do than when I was coming up. So heís almost got a college schedule now. If he can survive it, itíll help him out in the future. Academics are definitely stressed first in our household and heís done a great job at that.
Nation of Orange:
If you had the ability to project Stevie Thompson Jrís future to whatever you would want it to be, what would it look like?
Stevie Thompson:
Itís simple. If they can get into the NBA of course I would want that. But I want them to go to and finish college. I want them to get a PhD in whatever field that they choose. Those are the goals.