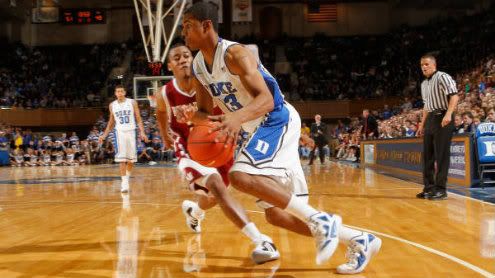 By Michael McAllister
At the end of April, Duke transfer Mike Gbinije committed to Syracuse University. We had a chance to speak with him recently about his decision, his game, and his goals for his Syracuse career.
Nation of Orange:
Talk about why you chose Syracuse and felt they were the best fit for you.
Mike Gbinije:
First off I thought Syracuse was an established program. I think coach Boeheim is one of the best coaches in college basketball. I just thought it would be a good fit basketball wise. I was cool with some of the teammates that are already there now. I knew some of them in high school (Christmas, Carter-Williams, Cooney). One of my old AAU coaches is there (Autry). So I'm familiar with everybody.
Nation of Orange:
What were the reasons behind your decision to transfer out of Duke?
Mike Gbinije:
It just wasn't a good fit. I needed a fresh start.
Nation of Orange:
You had the opportunity to spend a year at Duke with Coach K. What were some of the things you take away from that experience?
Mike Gbinije:
It is a very good program. Coach K is one of the best coaches I've ever played for. A couple things I learned playing under coach K are preparation, you have to take things a little more seriously and prepare better, and work ethic. He broke the game down as more than just basketball. He helped me mature as a person.
Nation of Orange:
After you decided to transfer, how many different schools called you and how aggressive was Syracuse?
Mike Gbinije:
I don't have a specific number, but a good amount of schools that recruited me in high school wanted to recruit me once I decided I was going to leave. The recruiting is different. In high school, they're trying to sell you on certain things. Being in college already, this time it was more straight forward. You knew what you were going to get.
Nation of Orange:
When you committed to Syracuse, who on the staff did you tell and what was their reaction?
Mike Gbinije:
I had dinner with coach Red and coach Boeheim. I just talked to them and had a normal conversation. My dad and I decided I wanted to commit, so when we were having dinner I just told them. They were excited with me. We were glad we could just get it over with. Now I can look forward to arriving on campus and getting things situated.
Nation of Orange:
Given that Syracuse is moving to the ACC, what is it going to be like for you when Syracuse plays Duke?
Mike Gbinije:
Honestly, it's not going to be weird for me. It's just basketball. I'm cool with people at Duke. I think I left on a good note and I still communicate with some of them. There's no love loss or anything like that. I just think it's going to be a good game. I can't guarantee anything, but it'll be a good game.
Nation of Orange:
What was coach K's reaction when you told him you wanted to transfer? Given the controversies out there with coaches restricting where players can transfer to, but coach K doesn't have that reputation. Was that your experience as well?
Mike Gbinije:
Yeah. Everything he does is professional. He always takes the high road on everything. He's a very good role model. A lot of times when the team is rattled or there's a lot of pressure, he always makes sure he calms everybody down so they can do the right thing. He certainly knows how to establish things and do good things.
Nation of Orange:
Tell us about your game. What can we expect to see from you on the court?
Mike Gbinije:
I'm real athletic. I like to get out in transition and run. I shoot the ball well, and play good defense.
Nation of Orange:
What have you been working on in order to make yourself a better player?
Mike Gbinije:
Definitely perimeter shooting and ball handling have been my focus.
Nation of Orange:
What are your thoughts on the Syracuse zone given that Duke plays pressure man? Do you have any experience playing zone from high school?
Mike Gbinije:
I have a little bit of experience, but definitely not on Syracuse's level of their 2-3. I'm definitely going to have to learn it. It's something new, but I'm looking forward to it.
Nation of Orange:
What position are you looking at playing at Syracuse?
Mike Gbinije:
I'm probably going to have to play the two-guard, but I'm versatile. I'm not looking for any specific position. Anything that can get me on the court. If they need me to play anywhere from the one to a forward, I'll do it.
Nation of Orange:
Since coach Autry was your AAU coach, tell us a little about him as a coach.
Mike Gbinije:
He's definitely a good coach. He's the type of person I really respect and trust. He coached me when I played for Team Takeover when I was younger. I have a good relationship with him. I think he's in my corner.
Nation of Orange:
What are your personal and team goals for your time at Syracuse?
Mike Gbinije:
Team goals are more important right now. Just focusing on starting with the Big East tournament, go far, and compete for a national title every year that I'm there. In my college career, I just want to win a national title.
Follow Nation of Orange on twitter
Like Nation of Orange on Facebook
Photo credit: zagsblog.com